THE people of As Teo are inviting everyone to the annual Santa Lourdes novena, which starts Friday, Feb. 5 at 5 p.m.  in As Teo. This year marks the 70th  since the annual novena to Our Lady of Lourdes began in As Teo, according to Manuel Flores Borja.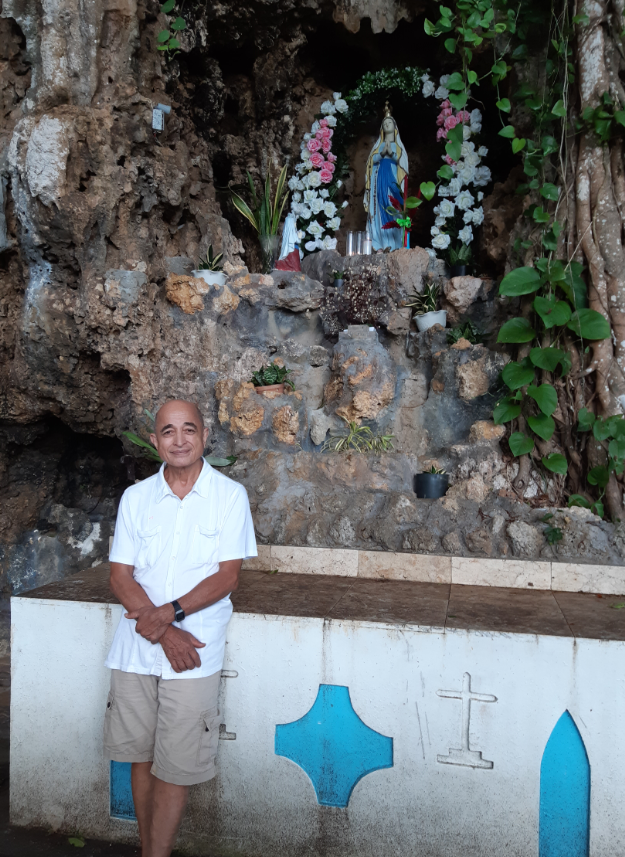 He said the novena will start at 5 p.m. every day until Saturday, Feb. 13, when the novena and rosary will start at 2 p. m. and end with a Mass at 3 p.m. 
There will be no procession and no fiesta this year due to the Covid pandemic, Borja said, and attendees will be asked to wear masks and observe social distancing at the novena.
After the Mass, attendees will be offered "grab and go" bento dinners, Borja said.
 Borja explained how the Santa Lourdes novena began in As Teo in Feb. 1951. 
He said his late father Vicente and Vicente's siblings — Ignacio, Ramon, Joaquin, Antonio, Rita, and Anuncia — began the tradition at the request of the local Catholic church, it was reported. 
Before World War II, the Lourdes statue was enshrined at the Garapan Catholic Church, which was destroyed during the war.  Somehow the Lourdes statue was not damaged, it was reported.
So the first Santa Lourdes novena began in Feb. 1951 at the As Teo shrine, Borja said.  The novena, rosary, Mass, and procession were followed with dinner served at Vicente's farmhouse in As Teo, Borja said.  The families of Vicente and Vicente's siblings all participated, he added.
 A few years later, the families of Vicente's brother Ignacio and Vicente's nephew Benbar, joined in serving dinner after the novena at their farmhouses in As Teo, it was reported.
Borja said before the Covid pandemic, the Catholic attendees to the Saipan novena included many from Guam and other off-island visitors.
For many Catholic believers, Mary the Blessed Mother appeared to Bernadette, a young girl in Lourdes, France in 1858, and urged her to pray for world peace, according to the online Encyclopedia Britannica.  The Lourdes shrine in France is known worldwide for the thousands of people making pilgrimages to the shrine each year, it was reported.
The feast day of Our Lady of Lourdes is actually Feb. 11, but the Saipan tradition schedules the last day of the novena on the Saturday closest to Feb. 11, Borja said.
 For those who do not know where As Teo is, it is the area between Kagman and Capital Hill.  To reach the As Teo shrine from Isa Drive (Highway 31), turn east on Chalan Santa Lourdes, then turn right (south) on As Teo Drive.