VIVIEN Liu and Christina Kim of Marianas High School were recently recognized as semifinalists by the National Merit Scholarship Corporation along with two other students from the CNMI.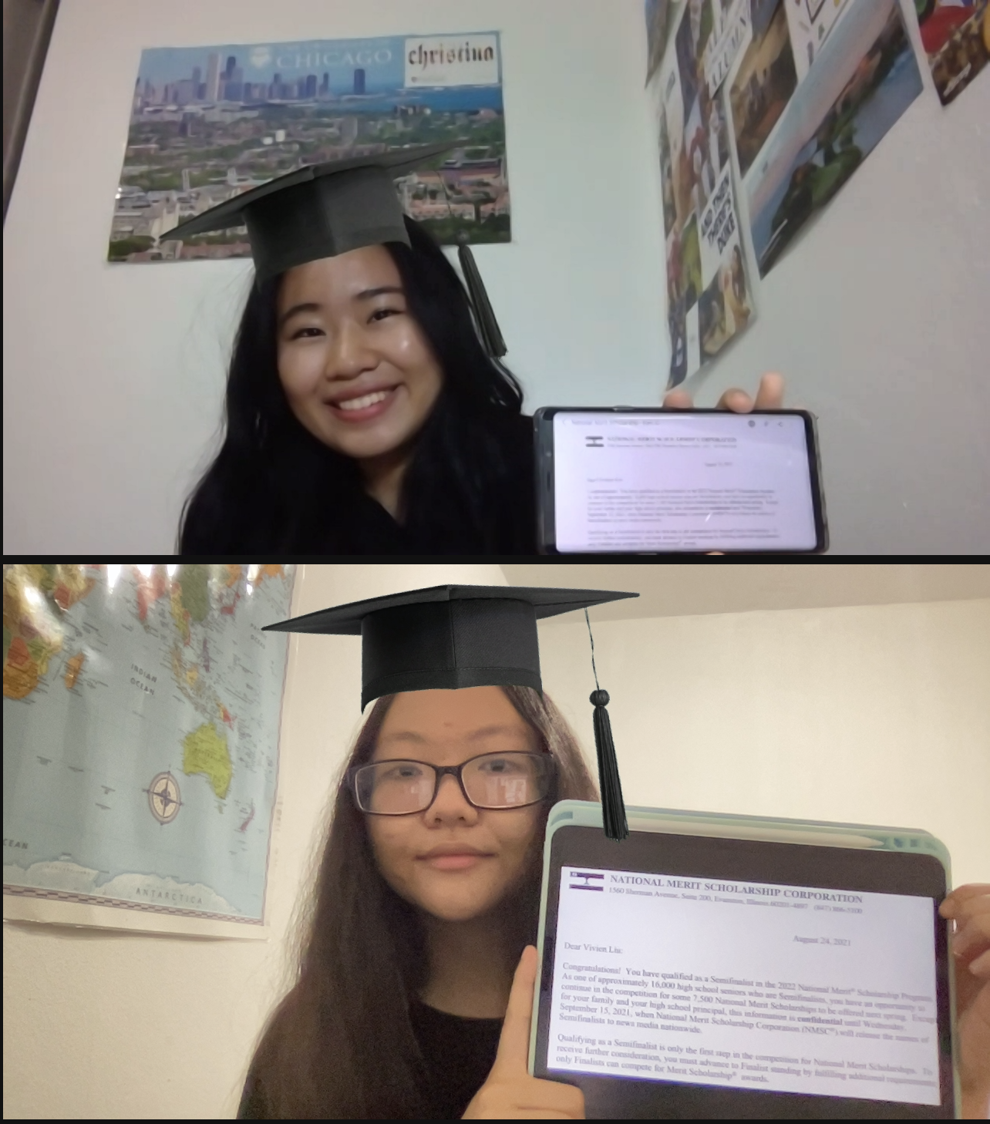 This year, 16,000 students earned this title, representing approximately 1% of the 1.5 million students who took the Preliminary SAT/National Merit Scholarship Qualifying Test.
MHS principal Jonathan Aguon, M.Ed. on Monday congratulated Liu and Kim for this achievement.
"We're very excited that they've made it to this qualifying round. We're glad that they've pushed themselves to gain the financial resources so that they could pay for college. It's a highly competitive process because it is nationwide, so we're hopeful for them that they can make it to the next level," he said.
Liu and Kim were both named Questbridge College Prep Scholars and were accepted into several fly-in programs for top colleges in the United States.
Through QuestBridge Prep, Kim was able to experience Yale University's summer program with a full scholarship.
She was also contacted by the West Point admission officer and was considered for the Letter of Assurance several months ago, which is a conditional acceptance to West Point Class of 2026.
In addition, she passed all six of her Advanced Placement courses and has been recognized as an AP scholar with distinction.
When asked about the semifinalist title, Kim said, "Despite already having been recognized as an AP scholar with distinction, as well as being a national representative for the CNMI for Mathcourt, National Speech and Debate Association, and Mock Trial, I still take immense pride in my most recent accomplishment as a National Merit semifinalist. I found out that I was a semifinalist only after the article recognizing the other two students in the CNMI was published. I was disheartened because I thought nobody from our class in Marianas High School was a merit scholar. After I found out, I wanted to share this exciting news with my community. I hope that the future classes at MHS can continue this tradition of keeping Marianas High School on the list of schools that have merit scholars."
Liu has represented the CNMI in national competitions for Speech & Debate, Mock Trial, Short Film, Theatrical Scenic Design, and Aeronautics.
She is currently the MHS Mock Trial team captain and Honor Society president. Having taken six AP classes and receiving high marks in all of them, she was also named an AP scholar with distinction through the College Board's Advanced Placement Program.
"It's been especially tough for most of us, locally, in the class of 2022 because our school year has been interrupted every single year since we started high school. I had to do a lot of self-studying to catch up on the standards tested in the SAT, but my hard work has paid off. So much of the National Merit recognition lies in the full-ride scholarships offered by schools like the University of Central Florida, University of Alabama, etc., so I'm hopeful to pursue higher education without burdening my family with things like student loans," Liu said.
She added, "I've been in the CNMI's public school system since K5. I went to Garapan Elementary school, Hopwood Middle school, and am now at MHS. In the classroom, I learned the basics of English and Math, but through my activities, I was afforded the opportunity to apply it [in real life]. I'm honored to have earned this national recognition, but it's also given me a lot to think about. There's a stigma associated with public schools. A lot of people seem to think that they're not as rigorous or academically demanding. I think that's not true. I am deeply grateful to all teachers in the CNMI for devoting themselves to ensuring we actually learned the material, for understanding that some students have difficult home lives, for being funny and kind, and most importantly, for believing in us."
MHS principal Aguon encouraged students to seek out opportunities such as the National Merit Scholarship to pursue higher education.
"There are many opportunities out there to achieve your dream. If it's a route for college, the financial costs shouldn't be the biggest barrier. There are ways to afford it, and the National Merit Scholarship is one way to do it. Yes, it takes a little bit of time and effort to compete, but if they put in the effort for it, they have the opportunity to get those resources. I do encourage all of the high school students to pursue these opportunities. It's out there for them. They just need to look for them and put in the effort to compete," he said.
According to the NMSC website, the nonprofit has recognized over 3.4 million students and provided some 451,000 scholarships worth over $1.8 billion since its founding in 1955.