THE House Republicans and their independent ally on Wednesday elected Rep. Ivan Blanco as the House minority leader of the 22nd Legislature.
The last time the Republicans were the minority bloc in the House was during the 18th Legislature (2013-2015).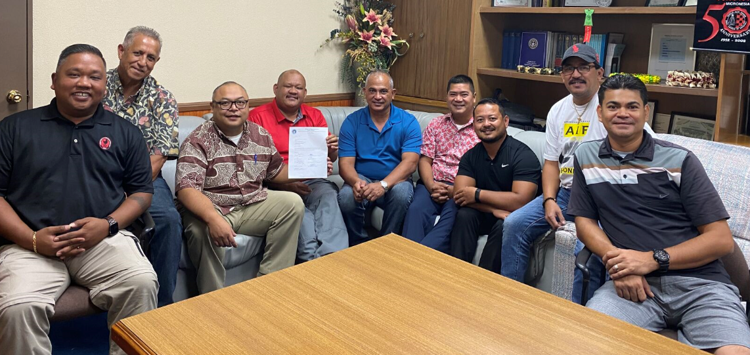 After their meeting in Blanco's office at the legislative building, the minority bloc sent a letter to Speaker Edmund S. Villagomez, informing him that they had selected Blanco to be the House minority leader.
Besides Blanco, the other signatories on the letter were Reps. Roy Ada, Angel Demapan, Joseph Leepan Guerrero, Patrick San Nicolas, John Paul Sablan, Joel Camacho, Blas Jonathan Attao and Joseph Flores, an independent member.
In an interview, Sablan said they are happy to elect Blanco as their leader. The group, he said, has confidence in Blanco who can "keep us strong as we work forward in the 22nd Legislature."
For his part, Demapan said they are "confident in his skills and abilities to lead our team in the 22nd House of Representatives. The minority bloc is looking forward to formulating our goals and objectives in our endeavor to help restore our economic footing following the immense challenges of the global pandemic," Demapan said.
In a separate interview, Blanco said, "I thank the members of the minority caucus for their confidence in entrusting me to take the lead on activities and negotiations with our majority group."
He said their team "intends to continue representing the voices of the underrepresented and underserved members of our community, and we anticipate a fruitful and harmonious working relationship with the majority group."
The 22nd House consists of nine Republicans, eight Democrats and three independents. Two of the independents are allied with the Democrats while one caucuses with the Republicans.
During the organizational sessions on Monday, the three roll-call votes for the speakership ended in a 10-10 tie between Republican Angel Demapan and  Edmund Villagomez, an independent member supported by another independent and the eight Democrats.
On Tuesday, Demapan announced that he was withdrawing his candidacy to help end the impasse. The Republicans then nominated Blanco for the speakership, but his fellow Precinct 3 Republican, Ralph N. Yumul, voted for Villagomez who won, 11-9. Attao was unanimously elected vice speaker.
With the support of the Democratic-Independent bloc, Yumul was elected floor leader, beating Demapan, 11-9.