In addition to the screenings, the films' writer and producer, school president Dr. Galvin Deleon Guerrero, will participate in an online panel with other indigenous filmmakers on Saturday at noon. This will be the first virtual version of GIFF, which will stream live online for free, worldwide. It will also be televised simultaneously on KGTF Channel 12, PBS Guam.
"We were honored to be invited to participate again in GIFF by showcasing these important stories about our islands, our people, and our history," said Deleon Guerrero. Many of the films were previously nominated for GIFF's Best Made in the Marianas, with one bagging the Best of Festival in 2018. Deleon Guerrero added, "We appreciate that GIFF continues to provide a platform for indigenous filmmakers to tell our stories."
In fact, to celebrate the 10th anniversary of this groundbreaking festival, the emphasis of this year's GIFF is centered around indigenous Pacific Islander films with a special retrospective showcase featuring award-winning and nominated local films that have screened as part of GIFF within the past decade.
"I'm happy to commemorate the Festival's tenth anniversary by honoring our own stories," said GIFF Program Director Kel Muna. He added, "With so many unsettling moments taking place this year, we wanted this GIFF to be a special 'thank you' note; an expression of humble thanks and gratitude to our local GIFF audiences, participating filmmakers, and community & business leaders that have supported the Festival and its mission by way of community, education and entertainment throughout the past ten years."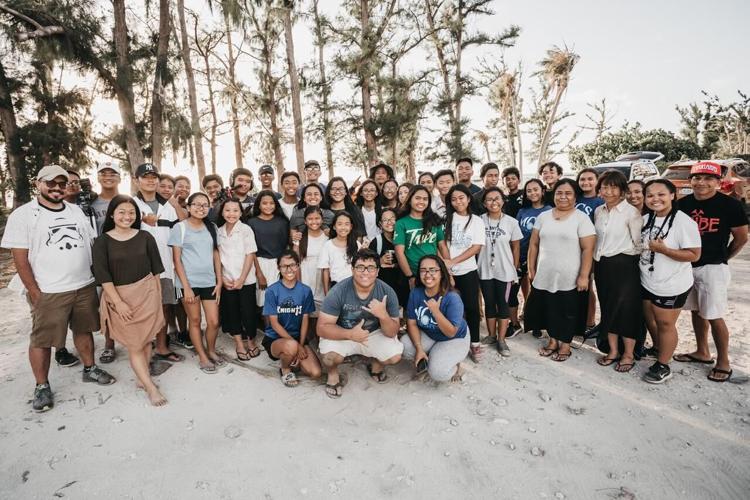 The cast and crew of the "We Drank Our Tears" gather for a group photo at one of the film shoots for the production. Photo courtesy of D&R Visuals
Regarding the "We Drank Our Tears" films, GIFF Executive Director, Don Muna noted, "The maturity in the visual perspective and the historical knowledge that the students from Mount Carmel School have shared through their work is proof we can preserve, restore and perpetuate our culture by bridging the generational gap through visual communications." He went so far as to say, "The film series is sheer genius and what I would define as a digital cultural immersion."
The films to be screened tell the stories of Carmen Acosta, Sr. Antoineta Ada, Rosa Agulto, Francisco Babauta, Benjamin Abadilla, and Rafael Mafnas. All the films in the series are adapted from "We Drank Our Tears", a 2004 oral history of the civilian experience of World War II battles on Saipan and Tinian, published by Pacific STAR Young Writers Foundation. In 1944, some of the final battles of World War II were waged on the Pacific islands of Saipan and Tinian. 933 indigenous Chamorro and Refaluwasch civilians did not survive the battles .All films will air starting at 3 p.m. on Saturday, November 28 on PBS Guam.
For more information regarding GIFF, including film showtimes, please visit www.guamfilmfestival.org
For more information about Mount Carmel School, please visit www.mountcarmelsaipan.com