GAS prices on Saipan went up by 10 cents last week.
Mobil Oil Marianas and Shell Marianas have raised their regular gas price per gallon to $3.88 from $3.78 while the premium gas price increased to $4.33 from $4.23. The diesel price remains $4.06.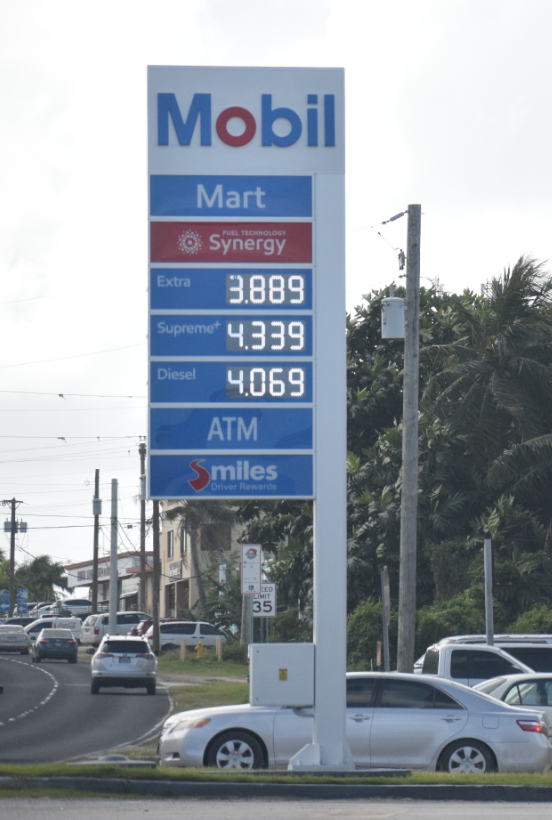 In response to the Covid-19 global pandemic, Gov. Ralph DLG Torres on March 5, 2020 imposed a price freeze on essential commodities, including fuel. At that time, the price of regular gasoline was $3.93 per gallon.
Fuel prices went down in the next two months before increasing again in summer, but not beyond $3.93 per gallon.
Early this month, the governor ended the price freeze, saying that the CNMI is no longer experiencing a shortage of goods caused by Covid-19.
Like most motorists, Parks and Recreation maintenance employee Max Aguon is disappointed with the gasoline price increase.
"People have not recovered from their own financial problems so why raise the price?" he asked.
He said people still need "more time" before they can afford higher prices.
"Right now, there is still Covid-19 and people are still having a hard time," said Aguon who is also a community volunteer and drives around the island to collect trash.
"Before I needed only five gallons. Now, I have to buy five gallons more [out of] my own pocket," he added.
"That's only for the volunteer work that I do. How about the people who need to put food on their tables?"
The Associated Press reported recently that the increasing price of crude oil on the world market has caused gas prices to rise in recent days.