(GCA) — Grace Christian Academy students won top awards in the 3rd  virtual monthly qualifying competition of Primary Grades Forensic Conference for Kindergarten to 5th grade. They bagged eight first place awards in different events for the two divisions. They are happy to share their experience in joining PGFC.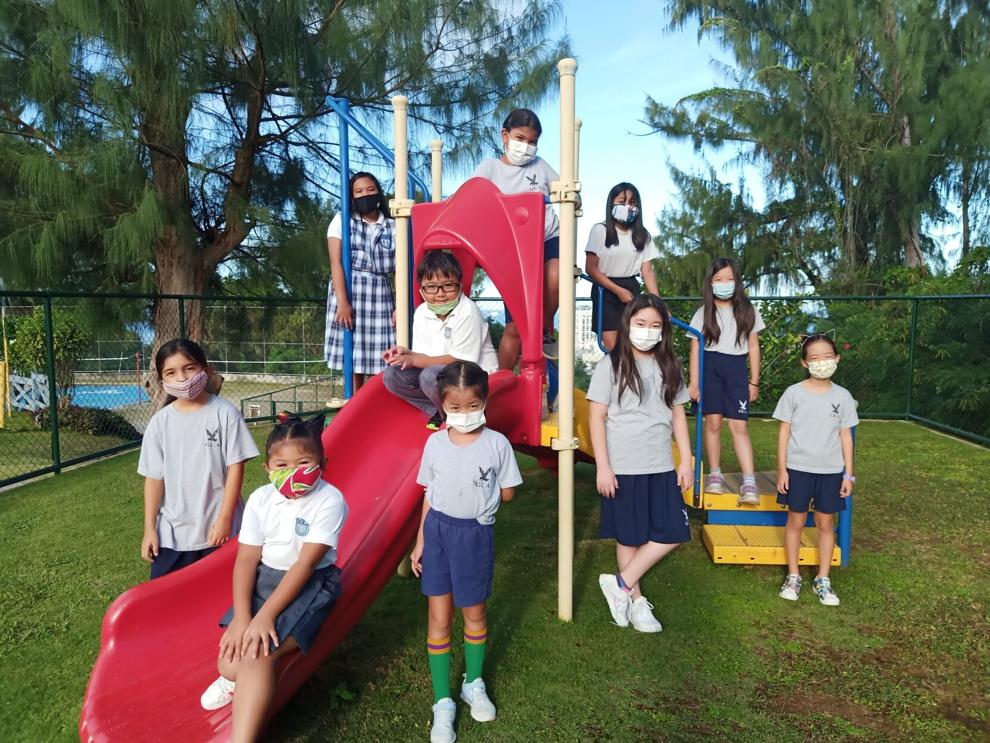 In K-2 division, Kindergarten 5 student Jacqueline Iris Quitugua won first place in Declamation. First timer competitor Iris said, "I like being on camera reciting my piece. I like competing with other kids."
First grader Fiona Yu was so happy when she won first place in her two events: Dramatic Interpretation and Readers Forum. She said, "PGFC is lots of fun and I will keep trying to become more confident. Thanks to Ms. Esther for helping me memorize my piece and read very well."
In 3-5 Division, four 3rd graders won first place in one of their events. En Mei Huang won first place in Impromptu speaking. On winning first place she said, "It was unexpected because the topic was hard for me in the beginning, but later it becomes easier with more practice in school and at home."
Anne Gabriel Arriola, who has been competing since she was in Kindergarten, won first place in Readers Forum. She said, "I like joining this competition because it helps me to improve my speaking and reading skills."
Catalina Frink, another 3rd grader who just started to join the competition last year, won first place in Declamation. She said, "Joining PGFC is very fun! I like to do it especially practicing with my mom!" Her Mom said that she learned to pronounce more words correctly by performing her competition pieces.
Another 3rd grader, Chloe Hayul Shin, is really shining this year and winning more awards. When she won first place in Humorous Interpretation, she said, "I was nervous, but I was also happy and excited. I felt like I was going to a very big contest."
Fifth grader Llyana Jairah Libut, who won first place in Readers Forum said, "I like PGFC because it helps me improve my speaking skills. It makes me push myself harder. I would like to thank my family for helping me."
Due to the Covid-19 situation, almost all of the events are pre-recorded video entries. The only live event for PGFC is Impromptu Speaking via Zoom in which only the competitors and judges can enter the live meeting.
PGFC competition encourages public and private school students from kindergarten 5 to fifth grade  to participate in and become proficient in performing arts: reading, public speaking, and interpretation.
The administration, faculty & staff, and parents of Grace Christian Academy would like to extend their congratulations to the following winners who participated in this competition. Grace Christian Academy offers K-12 education and other learning opportunities. If you are interested to learn more about what GCA offers, please contact Mrs. Beth Ann Nunez via email at bnunez.saipan@gca-nmi.com or call our office at 322-3320 or come visit our campus on Navy Hill, Saipan.
GCA January PGFC list of all winners
K-2 DIVISION
Declamation
Jacqueline Iris Quitugua, 1st Place
Dramatic Interpretation B
Fiona Yu, 1st Place
Reader's Forum Masters A
Fiona Yu, 1st Place
3-5 DIVISION
Declamation
Catalina Marie Frink, 1st Place
Dramatic Interpretation
En Mei Huang, 2nd Place
Nerissa Corinne Xiao Liu, 5th Place
Humorous Interpretation
Chloe Hayul Shin, 1st Place
Impromptu Speaking A
En Mei Huang, 1st Place
Reader's Forum A
Nerissa Corinne Xiao Liu, 2nd Place
Reader's Forum B
Anne Gabriel Arriola, 1st Place
Reader's Forum C
Llyanna Jairah Libut, 1st Place
Reader's Forum D
Akira Ito, 3rd Place
Chamorro Reading
Remelene Geoliz Falig, 3rd Place
PGFC Coach/Coordinator:
Esther Manzano