(Press Release) — The CNMI judiciary, in coordination with the District Court for the Northern Mariana Islands, conducted the Ninth Law and the Freshman Legislator program at the district court on Thursday. The program, held biennially since 2004 for incoming legislators, provides an overview of the judicial process and gives the legislators a rare opportunity to interact in one setting with all ten federal and CNMI judges and justices.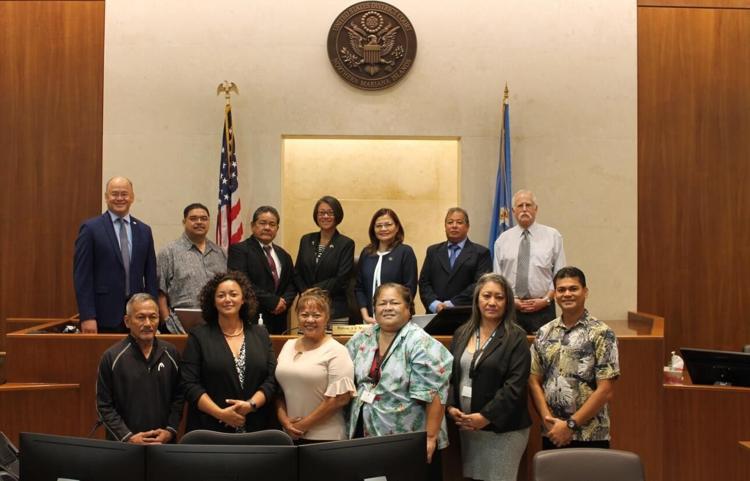 Sen.-elect Edith E. Deleon Guerrero, Rep.-elect Roy Aldan Ada, Rep.-elect Celina Roberto Babauta, Rep.-elect Vicente Castro Camacho, Rep. elect Leila Fleming Staffler and Rep.-elect Denita Kaipat Yangetmai, all from Saipan, were in attendance. The two new legislators from Tinian, Sen.-elect Karl R. King-Nabors and Rep.-elect Patrick H. San Nicolas, registered for the program but did not attend. Rota has no new legislator this cycle.
Justice John A. Manglona moderated the program, which began with a presentation by Supreme Court Chief Justice Alexandro C. Castro on the Covenant and the U.S. and CNMI Constitutions. Chief Judge Ramona V. Manglona of the District Court for the NMI presented on the topic of statutory interpretation.
The incoming legislators discussed the role of the courts with a panel of judges and justices. General Counsel of the CNMI Judiciary Hyun Jae Lee gave a presentation on basic legal research. The program concluded with a roundtable where the judges and justices answered questions from the newly elected legislators.
Senator-elect Deleon Guerrero was grateful for the opportunity to learn from justices and judges, and learned many lessons that she says will serve as guidance when enacting legislation. "I am most hopeful that the CNMI elected officials continue to visit the CNMI Constitution and Covenant, not just for their guidance but for assurances to the people they represent, to live and carry out the intent and spirit of both documents," she said.
"I appreciate the program and that the judges advocate for their agency and their staff," Rep.-elect Roy A. Ada said. "The event provided insight on the operations of the Judiciary and I look forward to working with them in the future."
Echoing similar sentiments, Rep.-elect Leila F. Staffler looks forward to connecting with the judiciary, working together as separate but equal branches of government. Staffler described her experience as "eye-opening and embracing." She added, "I enjoyed brainstorming ways to improve our Commonwealth."
The Northern Mariana Islands Judiciary Historical Society sponsored this year's program.