Looking back to fiscal year 2020, Tenorio said she recognizes the government's financial challenges  caused by the "downfall of the economy" that resulted in a significant budget reduction.
"The budget is revenue-based," she said. "So whatever the government collects, they can only give us so much."
But she said the Department of Finance has been transferring funds to PSS on biweekly basis.
She said the central government should have fully transferred what is due to PSS in FY 2020 by this week.
Due to a steep drop in government revenue collection following the Covid-19 pandemic, the $37,718,904 appropriated for PSS by Public Law 21-8 was reduced to $19,552,160 while the BOE budget went down from $322,837 to $167,347.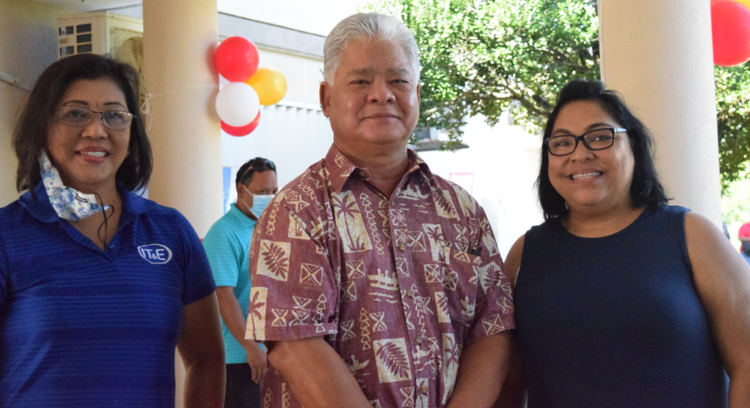 Board of Education Chairwoman Janice A. Tenorio, right, poses with Lt. Gov. Arnold I. Palacios, center, and IT&E general manager Rose Soledad during the ribbon-cutting ceremony for the new Division of Youth Services office in Kagman on Wednesday. Photo by Emmanuel T. Erediano
Tenorio said she appreciates the administration for meeting its constitutional obligation to appropriate 25% of the total government revenue for PSS. 
She said  Gov. Ralph DLG Torres, Lt. Gov. Arnold I. Palacios and Finance Secretary David DLG Atalig  have been "very responsive to our requests and our needs."
Tenorio also thanked the federal government for providing PSS with a significant amount of funding assistance,
She also commended PSS federal programs officer Tim Thornburg for "diligently working hard in the drawdowns of federal funds for PSS programs."
Tenorio said her goal now is to avoid payless paydays and keep PSS programs going. "Teachers, principals and teacher aides are close to my heart," she added.