The individuals have been quarantined and moved to the designated isolation area for close monitoring, CHCC communications and public relations specialist Lee Tenorio said.
In addition, he said, CHCC has already initiated contact tracing for the most immediate contacts of the new confirmed cases, including passengers on the same flight.
The CHCC Covid-19 dashboard indicates that of the 96 total cases since March, 70 involved inbound passengers and 26 cases were infected through community transmission.
'Fight Covid-19, not each other'
In an interview on Saturday, Gov. Ralph DLG Torres noted that "our system here is working," referring to the testing upon arrival at the airport.
"Let us continue to fight Covid-19 together, [not each other,]" the governor added.
He said monitoring inbound passengers at the border is very critical in keeping the islands safe.
He noted that in the CNMI, Covid-19 testing is done at the border and is followed by quarantine and health monitoring.
The governor attributes the success in curbing community transmission to members of the community.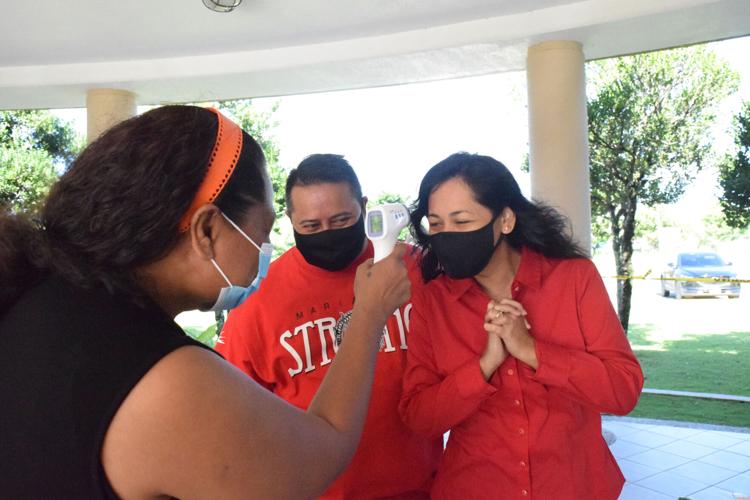 Gov. Ralph DLG Torres looks on as first lady Dianne Torres undergoes a temperature check at the entrance to Kagman Community Center where they voted on Saturday morning. Photo by Emmanuel T. Erediano
"So I would like to thank our community from the bottom of my heart…. We remain safe because our community is following the directives," the governor said.
He also thanked the front liners and first responders for putting their own health on the line.
The governor likewise commended CHCC Chief Executive Officer Esther Muna and her staff, Covid-19 Task Force Chairman Warren Villagomez and the governor's authorized representative Gerald Deleon Guerrero "for the great job they're doing to keep our islands safe."
Torres said "a big shout-out" also goes to the Commonwealth Office of Transit Authority staff and executive director Alfreda Camacho, "who have stepped up to do a phenomenal job."
"We only had one chance to do it right," the governor said, "and we are doing it right together as a community," he added as he likewise expressed his appreciation to the private sector and community organizations for their cooperation and support.
"I strongly believe that because of our early directives and our community following them, we remain safe. We are all wearing masks, keeping physical distance, and washing our hands.  So it really is our community that has stepped up. I cannot thank them enough," the governor said.