He said this may affect the ability of Imperial Pacific International to collect payments from its gambling debtors from China and meet its obligations to the CNMI.
During their regular meeting on Tuesday, the casino commissioners asked IPI officials to provide them an update on, among other things, the casino investor's financial state.
Guerrero told IPI Chief Executive Officer Donald Browne that the Chinese government's blacklist system for cross-border gambling may have "very serious implications not only on casino gambling here but on the tourism industry in general."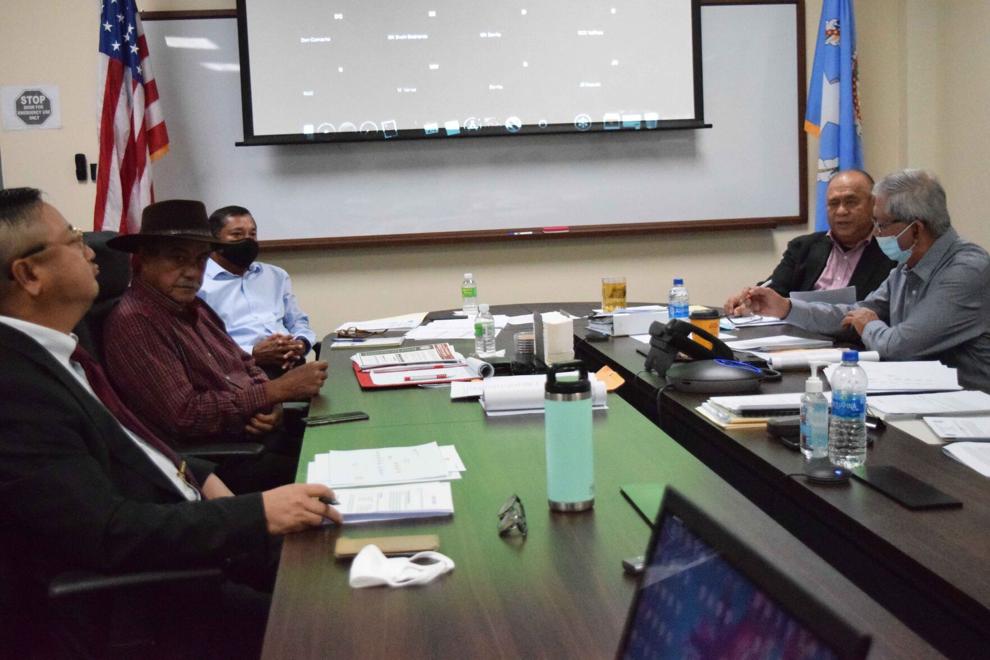 Commonwealth Casino Commission Chairman Edward C. Deleon Guerrero, right, background, speaks as Commissioner Diego Songsong, right, Vice Chairman Ralph S. Demapan, third left, Commissioner Ramon Dela Cruz, second left and Executive Director, Andrew Yeom, left, listen during a meeting in the CCC conference room in Gualo Rai on Tuesday. Photo by Emmanuel T. Erediano
He asked Browne how this development in China could affect IPI's ability to pay its obligations to its workers, vendors and the CNMI government.
Deleon Guerrero noted that IPI is trying to collect $300 million in gambling debts from "high rollers" in China.
He also reminded Browne about the five enforcement actions against IPI, which will be scheduled for a hearing soon. Any of these violations may result in the suspension or revocation of the exclusive casino license, Deleon Guerrero told Browne.
He said the parent company of IPI in Hong Kong does not appear to be addressing the problems of IPI in the CNMI.
In response, Browne said if the CNMI will be included on the blacklist, there are other gamblers elsewhere in the world who can come to Saipan.
Browne said prior to the Covid-19 pandemic, less than 50% of tourists who visited the CNMI came from China. The other major tourism markets of the Commonwealth are South Korea and Japan.
Browne also told the commission that right now IPI relies heavily on "third-party" financial sources.
"We have no means other than to borrow," he told the commission when asked where IPI will get the money to pay its workers and other obligations on Saipan.
IPI's casino in Garapan has been shut down since March because of the global Covid-19 pandemic.