DFEMS public information officer Derek Gersonde said there were two separate fires at the site: a grass fire and structure fire.
On Monday, at 4:03 p.m., 911 dispatch received information from a female caller reporting heavy black smoke coming from Hopwood, Gersonde said.
At 4:07 p.m., DFEMS Rescue-1 and Medic-1 from Susupe Fire Station, Engine-2 from the Garapan Fire Station, and Forestry-5 from the Kagman Fire Station were dispatched to the scene.
A Highway Patrol confirmed the structure fire at 4:08 p.m.
The first firefighting unit arrived on the scene at 4:16 p.m.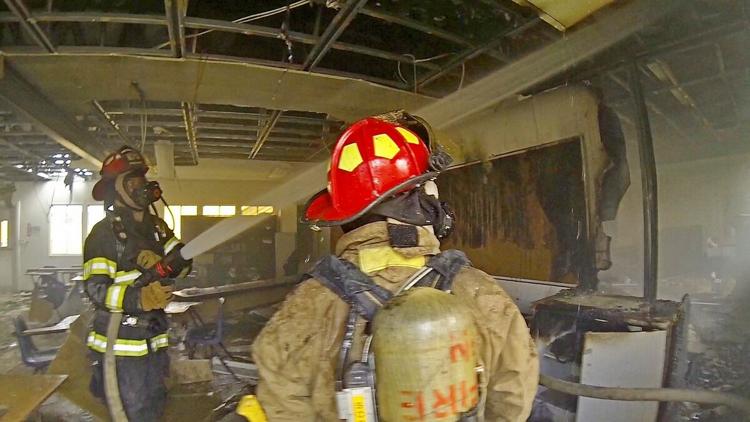 Gersonde said the structure fire was located on the western side of the school in the middle room. Fire crew suppressed the blaze to prevent it from traveling or damaging the rest of the building.
The grass fire was located along the western border of the school.
Forestry-5 was able to control the fire from igniting the trees along the shoreline, Gersonde said.
He added that the DFEMS fire crew supervisor reported that the structure fire was controlled by 4:40 p.m.
"No persons were injured, and no treatments were provided at the scene for medical complaints in relation to the fire," Gersonde said.
But the cause of the fire is still undetermined. "Our investigators are still processing the scene," Gersonde said.
Hopwood was among the schools hardest hit by Super Typhoon Yutu in Oct. 2018. Since then, its students have been attending classes in a temporary facility in Koblerville.