Deleon Guerrero's nomination must be confirmed by the Senate.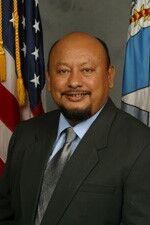 He previously served as special advisor for cannabis under the Office of the Governor, and helped bring the CNMI Cannabis Commission to fruition.
He was a House member from 2002 to 2019, and served as  speaker in the 18th Legislature.
He is also a former historic preservation officer for the Historic Preservation Office, or HPO, under DCCA.
In addition, Deleon Guerrero is a former U.S. Army combat medical specialist.
He is a former president and vice president of the Parent Teacher Student Association of Dandan Elementary School from 2002 to 2006, president of the CNMI Diabetes Coalition from 2004 to 2005, and roundtable commissioner of the CNMI Chapter of the Boy Scouts of America Program in 1989.
He also served as secretary for the Association of Pacific Islands Legislatures, chairman of the board of governors of the Pacific Islands Development Bank, member of the Western Interstate Commission for Higher Education Legislative Advisory Committee, president of the Micronesian Endowment for Historic Preservation, and a member of the Coastal Resources Management Program board of directors.
"Former Speaker Deleon Guerrero brings extensive public service experience from his time at HPO to his time as a congressman for our people,"  Gov. Torres said in a statement.
"Most especially, he has a love for cultural preservation and will work with our community and agencies to protect our cultural identity here in the Marianas."
The governor and Lt. Governor Palacios thanked Deleon Guerrero for his willingness to continue to serve the CNMI community and business partners through DCCA.
"We look forward to seeing him work collaboratively with our DCCA staff and to continue the progress the department has made. I thank former Secretary Robert Hunter, who is now my senior policy advisor, for his service and love for DCCA," the governor added.
Deleon Guerrero, for his part, said, "This appointment means a lot to me personally and professionally because it was with the Historic Preservation Office under this department that I began government service in 1986 until I got elected to serve in 2001."
He added, "Coming back to DCCA after 17 years in the Legislature feels like returning home, coming full circle to where it all began. It was those early years that formed my foundation about the importance and value of public service."
Moreover, he said, "I want to use this experience in addition to those I gained as a legislator to carry on the work of Mr. Hunter and every division [head] who have done an amazing job over the last few years to advance DCCA forward given the many challenges and setbacks."
Deleon Guerrero said he looks forward to working with the Torres-Palacios administration, other cabinet members, and especially the current division directors to continue existing programs and provide the many critical services to the people of the CNMI, especially during these difficult times.
He thanked the Torres-Palacios administration for nominating him to the position.