Younis passed away peacefully at his home, surrounded by his family, on April 18. He was 83.
A House resolution honoring Younis was authored by House Minority Leader Edwin K. Propst, who, on behalf of his colleagues, presented a framed copy to the Younis family.
"This legislative body, representing the people of the Commonwealth of the Northern Mariana Islands, is moved this day to pay just tribute to the life and distinguished career of the late Abed El Latif Younis," Propst said in his remarks.
He noted Younis' upbringing in Ara village in central Israel, as well as his educational background at the Bet Salel Academy of Arts and the Hebrew University in Jerusalem.
In 1970, Younis was awarded a scholarship grant to travel to Japan where he visited universities and worked with educators in the field of graphics and animation.
Fate then brought him to Guam and, eventually, to Saipan, his second home. Propst added that it was the warmth of the local people that convinced Younis to remain in the Northern Marianas.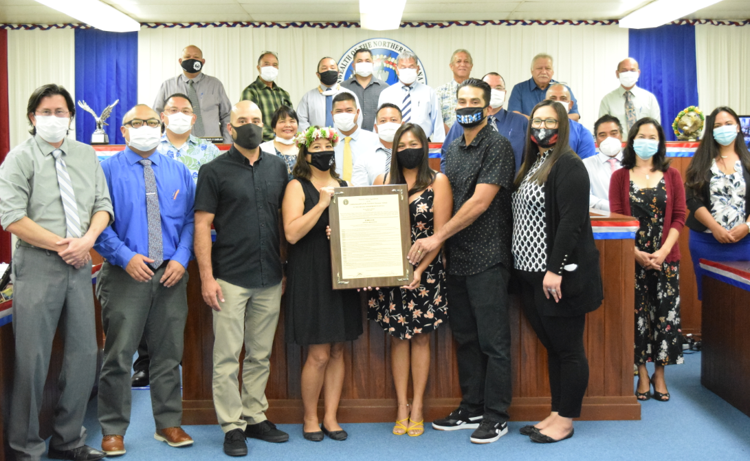 House Minority Leader Edwin Propst, left, Speaker Blas Jonathan Attao second left, and other members of the 21st House of Representatives join the children of Marianas Variety founder Abed Younis for a photo after presenting the resolution honoring Mr. Younis during the House session on Thursday. In the photo are Amier Younis, Farah Younis, Salam Younis, Jihan Younis and Suaad Younis. Photo by Emmanuel T. Erediano
In 1972, Younis took over the former Marianas Star, and renamed it Marianas Variety News & Views.
"Mr. Younis' vision for his newly found printing press came at the most opportune time in Northern Marianas history, covering negotiations and the establishment of the Commonwealth of the Northern Mariana Islands," Propst said.
"Under Mr. Younis' leadership, Marianas Variety has been at the forefront of journalism and public information for the CNMI and Micronesia. He created the first platform in the Western Pacific for important news and information from around the Marianas and around the world for almost 50 years.
"He has employed hardworking, dedicated people over the years, and continues to do so, increasing our local capacity and inspiring generations of journalists, communications directors, and public information officers. For the past 48 years, Marianas Variety has documented the social, economic, and political events that shaped the Commonwealth and its people," Propst added.
He noted that Younis was also an active community volunteer, serving in the Saipan Rotary Club, the Saipan Chamber of Commerce, and Karidat Social Services.
In 2014, Younis was awarded the Lifetime Achievement Award by the Northern Marianas Humanities Council.
"The magnificent character, unwavering commitment, and heartfelt compassion of this great man should serve as a paramount example that all individuals within the CNMI should possess in order to propel our society in a direction most desired, just as Mr. Younis did during his lifetime. It is with great pride that this body, representing the people of the Commonwealth, honors an individual who has demonstrated the genuine and unassailable characteristics of our Commonwealth," said Propst.
"Marianas Variety delivers the news to all of us without bias, but also without fear [and] without intimidation. In a small community that is very political, I can only imagine how difficult it was for Mr. Younis to publish controversial stories, but he persevered; he pushed through, and it's inspiring to see that it is his children who carry on his legacy, continuing to deliver our daily news, even in the bleakest and most difficult of times," he added.
"We are a grateful Commonwealth, and there is no doubt that Mr. Younis and Marianas Variety helped shape the course of the Commonwealth for the better because ultimately, knowledge is power, and an informed community is a responsible one."
Suaad Castro Younis, on behalf of the Younis family, thanked the members of the House for honoring her father.
"As one of the islands' local and regional media pioneers, he took his responsibility of providing a free press seriously and gave it his all to the last of his days. He believed an informed society was a healthy one, and worked tirelessly to connect all of Micronesia, even starting newspapers in Palau and Guam," she said.
She added, "One of the stories he liked sharing with us was when he first started  Marianas Variety in 1972. The political climate was intense as the Congress of Micronesia worked to negotiate with the United States the status of the Trust Territory of the Pacific Islands. Congress members on Saipan were holding a session. Still covered in ink, he grabbed a camera and went to cover the session."
According to Suaad Younis, "His presence was not wanted, and the Speaker demanded he leave. He refused, having to be carried out and thrown out on the stairs. This independent spirit of seeking the truth and accountability is rooted in the newspaper he started, and is true to this day and onwards. He loved his second home, and only wanted to leave it better for those who came after him, as we are sure we all aim to do. We humbly extend our gratitude to all of you for this wonderful acknowledgement."
Abed Younis is survived by his former wife Maria Paz Tudela Castro, their children Banny, Laila, Amier, Farah, Suaad and Salam, and 12 grandchildren.