TO celebrate its 10th anniversary on Saturday, Dec. 12, KKMP radio will host the Kagman Christmas Festival and Expo, and a golf fundraising tournament to benefit the Maturana House of Prayer.
The golf tournament will be held on the west course of LaoLao Bay Golf & Resort with show time at 6:30 a.m. and tee time at 7:30 a.m.
Also hosting tournaments at the same venue are the Refaluwasch Golf Association, the Marianas Golf Association and Mount Carmel School.
The Kagman Christmas Festival and Expo will start at 12 noon and end at 8 p.m. It will be held at Kagman Elementary School. Among the festival highlights are Christmas trees made of recycled materials.
KKMP was founded by Gary Sword and wife Rosemond Santos in 2010.
"It was a desperate time," Sword said. "The island was experiencing rolling blackouts, and the government was broke."
But he said he also witnessed the resilience of the island community.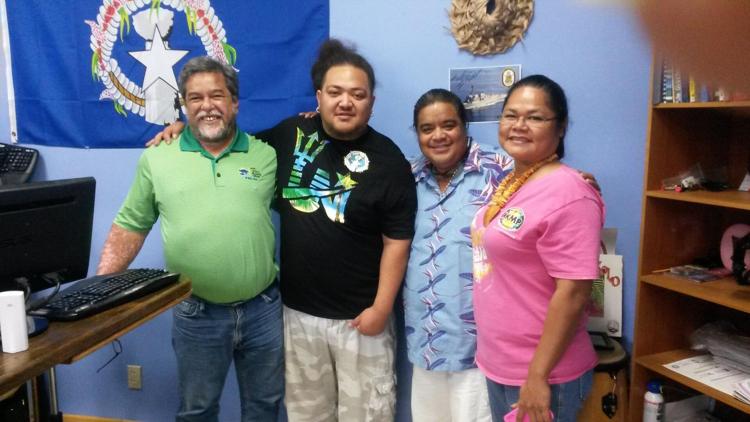 KKMP host Gary Sword, left, and wife Rosemond Santos, right, pose for a photo with Gordon Marciano, second right, and a guest. Contributed photo
"We really need to have a local station  owned by island people," he remembers telling his wife.
"We just felt that the best way to provide public information to the people and help make our lives better is to broadcast on the radio. It has been that way ever since. After Soudelor, Yutu, and during this Covid-19. Every day, we give out life-saving information to the people and where they can get help," Sword said.
After obtaining their Federal Communications Commission license, Sword said they bought the equipment, thanks to a loan from the Pacific Islands Development Bank.
He said he is also grateful to the Commonwealth Development Authority for extending a loan to KKMP so it could expand.
Sword said he is likewise thankful to the late Carolinian Affairs Office Director Joe Limes, Gordon Marciano, Lucinda Salipeo, Patrick Arriola and Donovan Castro.
KKMP found its first home on the second floor of YCO Building on Beach Road in Garapan. In 2013, the radio station moved to Cabrera Center also on Beach Road.
After Super Typhoon Soudelor hit the island in August 2015, KKMP moved to the second floor of the Marianas Business Plaza. Following the devastation Super Typhoon Yutu wrought in October 2018, KKMP moved to its current location in Oleai.
Today, KKMP is the only radio station on island that broadcasts funeral announcements, and airs the Divine Mercy and the Rosary. During the Covid-19 lockdown, KKMP broadcast Catholic Masses.
Sword said a lot of people listen to the radio especially in times of natural disasters when KKMP provided around-the-clock news.
"We're here to serve the listening public," he added.