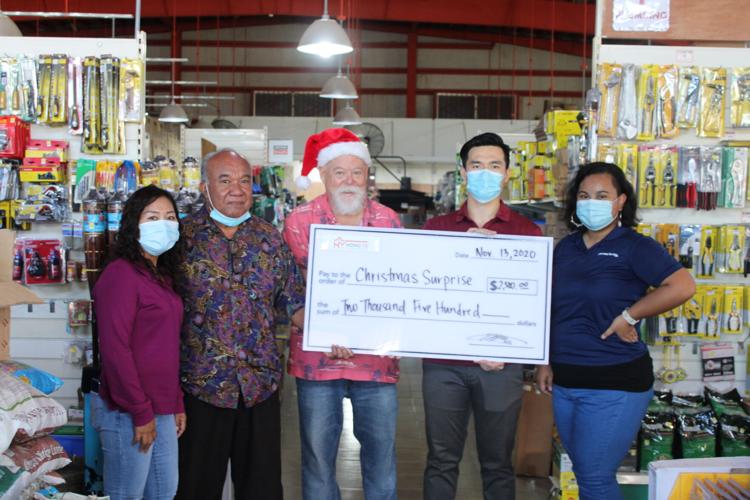 Hong Ye Construction donates $2,500 to "A Christmas Surprise on Saipan" which aims to help a local family dealing with hardship.
Contributed photo
A Christmas Surprise on Saipan is a new initiative started this year to help a local family on Saipan who is dealing with hardship. The program intends to choose one family submitted through an essay nomination process. Over 120 nominations have been submitted to date with the nomination period open through 11:59 p.m. on Nov. 30.
"At a time like this when the community is going through such trials, it's amazing to me to watch how people and businesses are still willing to help," said Keith Stewart, Pacific Rim president and founder of A Christmas Surprise on Saipan. "I have had a number of sponsors express their appreciation for the ability to participate in this program. Every business owner has gone through good times and bad, and each understands that at times in every one of our lives we go through challenges that seem to be insurmountable. I believe every sponsor is excited to see who the family will be and how we can help them."
Sponsors have given in various tiers with top sponsors donating $5,000 or more through monetary or in-kind donations. These Platinum Sponsors include: JMSI Electrical Guam LLC.; and JWS Air Conditioning & Refrigeration, Inc.
Gold Sponsors have donated $2,500 through monetary or in-kind donations and include: AIUP; Allied Pacific Environmental Corporation; Hong Ye Construction; IT&E; Security Title; Thompson Law, CNMI Limited Liability Company; and Torres Brothers, LLC.
Silver Sponsors contributed $1,000 monetary or in-kind donations and include: Burger Comer & Associates Certified Public Accountants; Horizontal Group HBR International, Inc.; ITS Corporation; and King & Neel.
Bronze Sponsors donated $500 monetary or in-kind donations and include: CFPJ; Godfather's Bar/Beach House Bar; Hydroaire Mechanical; Inas' Kitchen; Ipwan Security Services; Marianas Business Plaza; Pacific Marine Enterprises; and Royal Pacific Express/DECM Consultancy.
"The outpouring of support has been tremendous. Thanks to our sponsors we will be able to really help a deserving family through a challenging period of their lives, with the goal of getting them through it," Stewart said.
All proceeds raised through donations toward this initiative will go to help the winning family for their specific needs.
"A small portion of the funds will be spent on decorations to dress their place of residence up for Christmas, but the majority of the funds and donations will be used how the family needs it most," Stewart said. "We are still accepting nominations, and we are looking forward to choosing the family to see how this Christmas Surprise will really help change their lives in a very positive way."
Sponsors are still being sought to help support the prize package for the winning family, and Stewart expressed his appreciation for the initial sponsors support and goodwill to help a local family in need.
Those interested in sponsoring can donate on the secure website ChristmasSurprise.org or by contacting Pacific Rim at 670-588-7746.
A Christmas Surprise on Saipan was created by construction and real estate development company Pacific Rim, in media partnership with KZMI 103.9FM and Marianas Variety, and in collaboration with non-profit Empty Vessel Ministry Foundation.
For more information and program details, please visit ChristmasSurprise.org and follow on social media at facebook.com/CNMIChristmasSurprise