NMC Interim President Frankie Eliptico met with the SHEFA board of directors on Wednesday to discuss, among other things, the benefits of enrolling at NMC or the Northern Marianas Technical Institute.
Present in the meeting were SHEFA chairman Oscar M. Babauta, administrator Merissa Rasa, board members Kaelani Demapan, Juan K. Tenorio and Raymond M. Mafnas.
Eliptico said students can save thousands of dollars by not having to pay for out-of-state tuition and dorm fees as well as other expenses.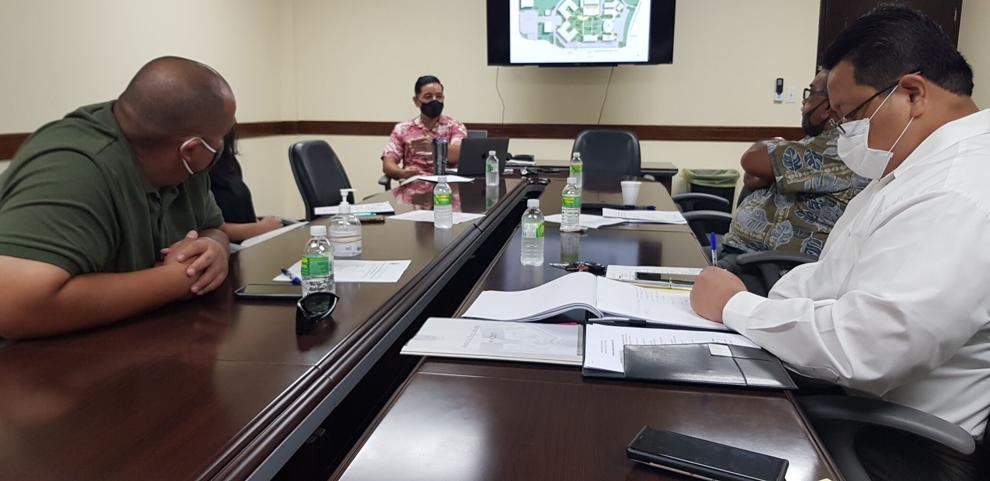 Northern Marianas College Interim President Frankie Eliptico third left, background, speaks during a meeting with the Saipan Higher Education Financial Assistance board of directors in the Saipan Mayor's Office conference room on Wednesday. Also in the meeting are SHEFA chairman Oscar M. Babauta, second right, board member Juan Tenorio, left, and legal counsel Mike N. Evangelista. Photo by Emmanuel T. Erediano
Moreover, he said, students will be able to take core courses in the CNMI that are transferable to a four-year university.
Research shows that community colleges help students transition to the university setting, and this has also been proven to increase student success and retention, he added.
SHEFA board member Kaelani Demapan said there is a need to encourage new SHEFA recipients to enroll at either NMC or NMTI due to the islands' "unprecedented economic situation" and the health risks brought by the Covid-19 pandemic.
She also noted that this issue has been brought up several times even before the pandemic hit the Commonwealth.