"On behalf of our families and the people of the Commonwealth, we extend our sincerest condolences and heartfelt sympathies to the family and friends of Mrs. Rose Pangelinan Camacho," Gov. Ralph DLG Torres and Lt. Gov. Arnold I. Palacios said in a statement.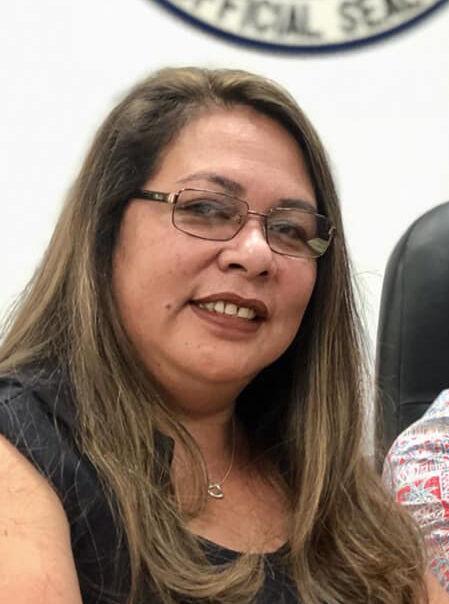 "It is a very sad day for all of us as we mourn her untimely passing.  Rose was a member of our cabinet, but most importantly our family, and in mourning we also reflect on the blessings of the time we had with her," the governor and the lt. governor said.
Camacho had been the administrator of the CNMI Scholarship Office since 2012.
"Rose's exceptional service and contribution to our Commonwealth over her career, most recently as the administrator of our CNMI Scholarship Office since 2012, will not be forgotten.  It was through her good work and diligent efforts [that] higher education [became] a reality for so many of our people," the governor and lt. governor said.
"Many in our community have been able to attain their educational goals, improve their economic standing, and see tremendous improvements in their lives and in their families, because of the leadership and work that Rose put in every single day."
In 2011, she served as natural resource planner for the Division of Coastal Resources Management where she also worked as executive assistant and financial manager.
In 2007, she held the post of a compliance and repayment officer at the CNMI Scholarship Office.
From 1993 to 2001, she was a legal assistant at the Department of Public Safety.
During the CNMI Typhoon Maysak Relief Drive in April 2015, she served as coordinator in  receiving, collecting and delivering donated disaster relief products and monetary donations from the CNMI to help the typhoon victims in Chuuk and Yap.
She also volunteered as treasurer of the Friends of Xavier High School Marianas Pacific.
Gov. Torres, Lt. Governor Palacios, and the CNMI Scholarship Office are asking members of the public to keep the Camacho family in their thoughts and prayers during this difficult time.
"We love you Rose, and we thank you from the bottom of our hearts for being a true public servant for the people of the Commonwealth," the governor and lt. governor stated.
Camacho is survived by her husband, Anthony, and their children Angelo, Sebastian, Spencer, Nana, and Princess.
Masses at 6 p.m. will be celebrated at the Santa Remedios Church in Tanapag and the Kristo Rai Church in Garapan to honor the memory of and offer prayers for Camacho.