Article IV, Section 3 of P.L. 20-92 states that "upon confirmation of all NMTI board positions and organization of the new NMTI board of trustees, the governor shall appoint a Committee on Transition composed of the newly confirmed NMTI board of trustees, including, but not limited to, the special assistant for management and budget, the secretary of the Department of Finance, the director of Procurement and Supply, the secretary of the Department of Public Lands, the Director of the Office of Management and Budget, and the CEO and remaining board of directors of the Northern Marianas Trades Institute."
The transition plan must be completed and submitted within 180 days after the organization of the Committee on Transition, which should have been established within 15 days after the organization of the board of trustees on March 12, 2020.
The committee will cease to exist on Oct. 2, 2020.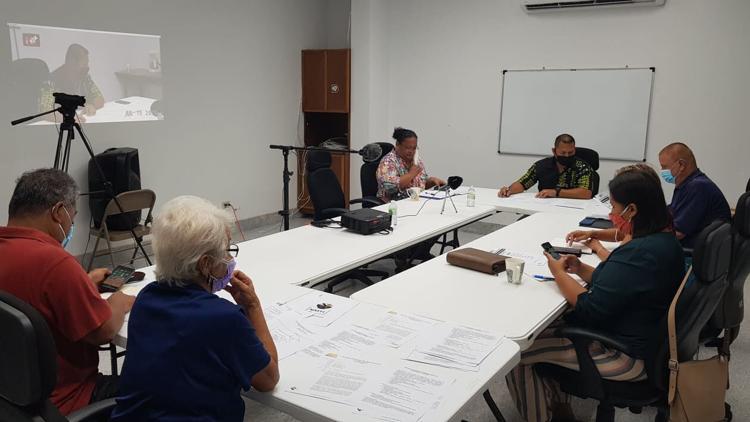 The Northern Marianas Technical Institute board of trustees on Wednesday meet at the NMTI building in Lower Base. In photo are acting chairman Ray Pangelinan, Carmelita M. Rabauliman-Faisao, Richard P. Kautz Jr., Catherine Attao-Toves, NMTI CEO Agnes McPhetres and human resources director Frank Rabauliman. Photo by Lori Lyn C. Lirio
"Without such appointments, we are left at a standstill and NMTI will not be able to meet the legal dateline," the NMTI board members stated in their letter to the governor. "With the impending reopening of NMTI tentatively scheduled for early September 2020 to coincide with the [Public School System], whose high school students, being a large bulk of our target clients, we feel it urgent to call this matter once again to your immediate attention."
The trustees sent a similar letter to the Office of the Governor on March 12, 2020.
"We empathize with the current struggles facing your office in dealing with the pandemic," they told the governor in their latest letter. "However, we must bring this issue forth to adhere [to] the intent of P.L. 20-92, as the CNMI government inadvertently [has] not been compliant to date. The continued delay resulting from unresolved appointments to the Committee on Transition has left our constituency in a state ambiguity."
In an interview, NMTI Chief Executive Officer Agnes McPhetres said it is important to finally transfer  assets, records and other important things to the board of trustees.
"Everything is still pending," she added. "Like the land [in Lower Base and Koblerville] is still not given to NMTI because there is no paper. It is like you rent something and you have not signed the contract and it is not complete yet."