Amid life's challenges, she never gives up.
Camacho worked for a hotel for 17 years and has been dealing with her disability for the past three years now. Her left leg had to be amputated due to a severe case of diabetes.
About year ago, Office of Vocational Rehabilitation Executive Director Maryann Borja-Arriola knocked on her door looking for Camacho's husband, Mariano, who is also a person with disability, and has been a client of OVR for years.
Borja-Arriola at the time was reaching out to OVR consumers.
After she assumed her position at OVR in April 2019 Borja-Arriola reviewed more than 200 cases including pending applications for assistance under OVR's self-employment program, which she said had been idle for many years.
Camacho, in an interview, remembered that day in December 2019 when Borja-Arriola made a follow-up visit at her home.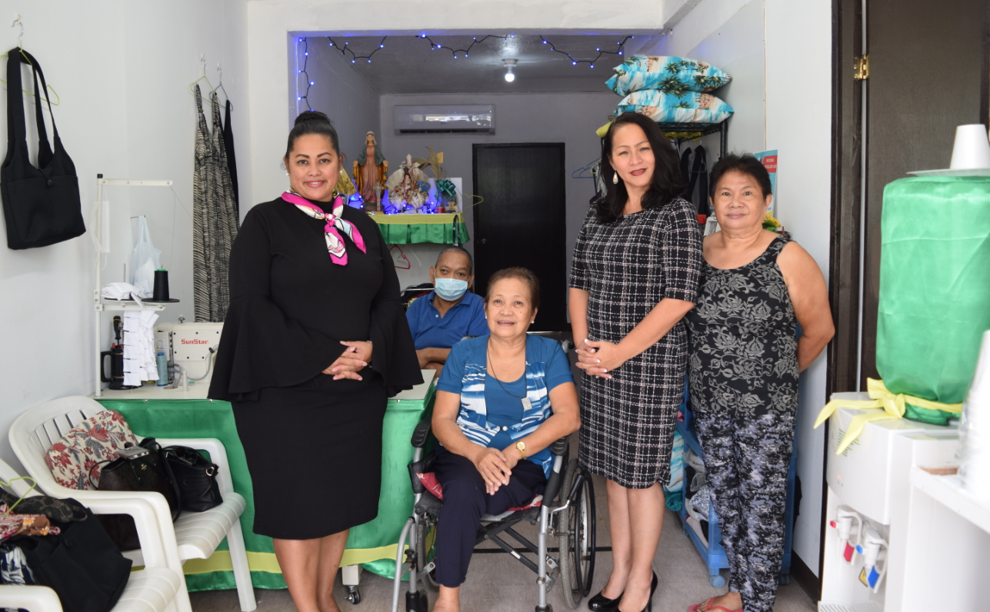 New dress shop owner Virgie Camacho, center, poses for a photo with Office of Vocational Rehabilitation Executive Director Maryann Borja-Arriola, second right, Camacho's husband, Mariano, seated at the back, OVR administrative operations specialist Arlene Reyes left, and Virgie's assistant, right, at her shop in San Roque last week. Photo by Jeanette Sarabia
"She was looking for my husband. She did not know that I myself had also become a person with disability," Camacho said.
She said Borja-Arriola told her, "OVR can help you."
"I'll never forget those words," Camacho said, adding that since then, she has been receiving "more blessings."
First, OVR told her that her application for self-employment program assistance was approved. This included an $8,000 startup money for an air-conditioned dress shop with three sewing machines.
She said OVR also took care of the applications for business license and other permits. OVR also paid for her business cards, Camacho added.
Today, Virgie's Dress Shop, located on Middle Road near Gregorio T. Camacho Elementary School in San Roque,  accepts tailoring, dressmaking, curtain-making and repair jobs,. It is the only dress shop in the northern part of Saipan.
"I am very grateful to OVR for the help," Camacho said. "If not for OVR, I wouldn't have this new dress shop. Thank you very much OVR. This is a big blessing."
In a separate interview, Borja-Arriola said OVR will ensure that people with disabilities either maintain or gain employment while seeking independence and being active members of the community.
"The introduction of self-employment as a part of our program has allowed several of our consumers to become entrepreneurs and 'be their own boss,'" she said.
To date, OVR has seven consumers who have availed themselves of the self-employment program assistance based on the availability of funds.
"It is a tedious and long process, but with the success of Virgie's Dress Shop as our first-ever self-employment business, we are hopeful and excited for more new businesses," Borja-Arriola said.
She added that Tinian and Rota will also have self-employment businesses under the OVR program.
Nobert Mundo of Sinapalo, Rota has just launched his ground maintenance business, she said.
"We also have an ice cream shop in the works for the island of Tinian. With these small businesses opening on all of the three main islands of the CNMI, I am greatly encouraging everyone to support them and other local businesses. We would also like to extend our heartfelt appreciation to all those who were able to make these businesses a reality, most especially to Small Business Development Center Director Nicole Babauta," Borja-Arriola added.