After donating a total of about 900 trash bins, he said he had to temporarily stop the program due to lack of supplies.
"We are still getting lots of requests," he said, adding that he will resume the program once he  secures empty containers from business companies.
Meanwhile, he said his office continues to support the beautification programs of non-profit organizations and other civic groups that include renovating pavilions and bus stops.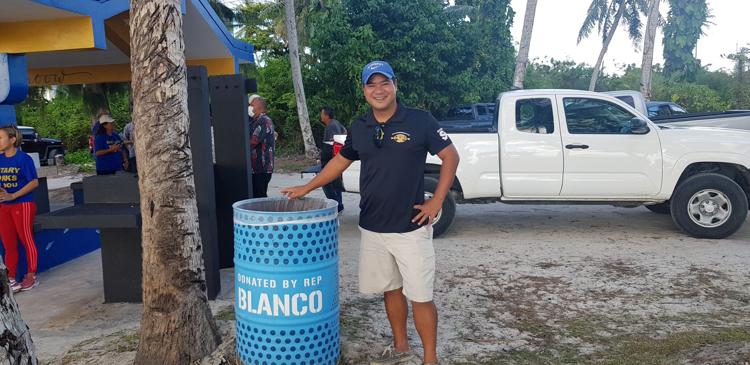 Rep. Ivan Blanco shows one of the trash bins he has installed in popular beach areas to support the anti-littering program. Photo by Junhan B. Todino
Blanco said his office has also joined the anti-littering program especially at popular beach sites on the island.
He also lauded the Marianas Visitors Authority for proposing to install showers on  public beaches.
"I absolutely support that and we will work with [the Department of Public Works] and the [Bureau of Environmental and Coastal Quality] in implementing that project," he said.
Blanco said he would like to see more improvements in beach areas to benefit not only tourists but residents as well.