MVA Managing Director Priscilla Iakopo said the idea of enlisting the help of Robert Arrington, host of the YouTube channel "Deer Meat for Dinner," in promoting the Northern Islands came from the Office of the Governor.
MVA then "sought the governor's support and the secretary of Finance to provide this promotion," she added.
"This promotion was an opportunity for MVA… to promote the Northern Islands. MVA has always been an advocate for [promoting all the islands]. What better time than now…to share not only Saipan, Tinian, and Rota, but our Northern Islands?"
Secretary of Finance David Atalig, for his part, stated that he transferred roughly $59,000 to MVA account for this project, adding that the funds came from the hotel occupancy tax collections owed to the agency.
"[MVA] did put in a request to the governor's office for assistance for this program. It wasn't identified…[the] funding source… but I booked it to the hotel occupancy tax," he said.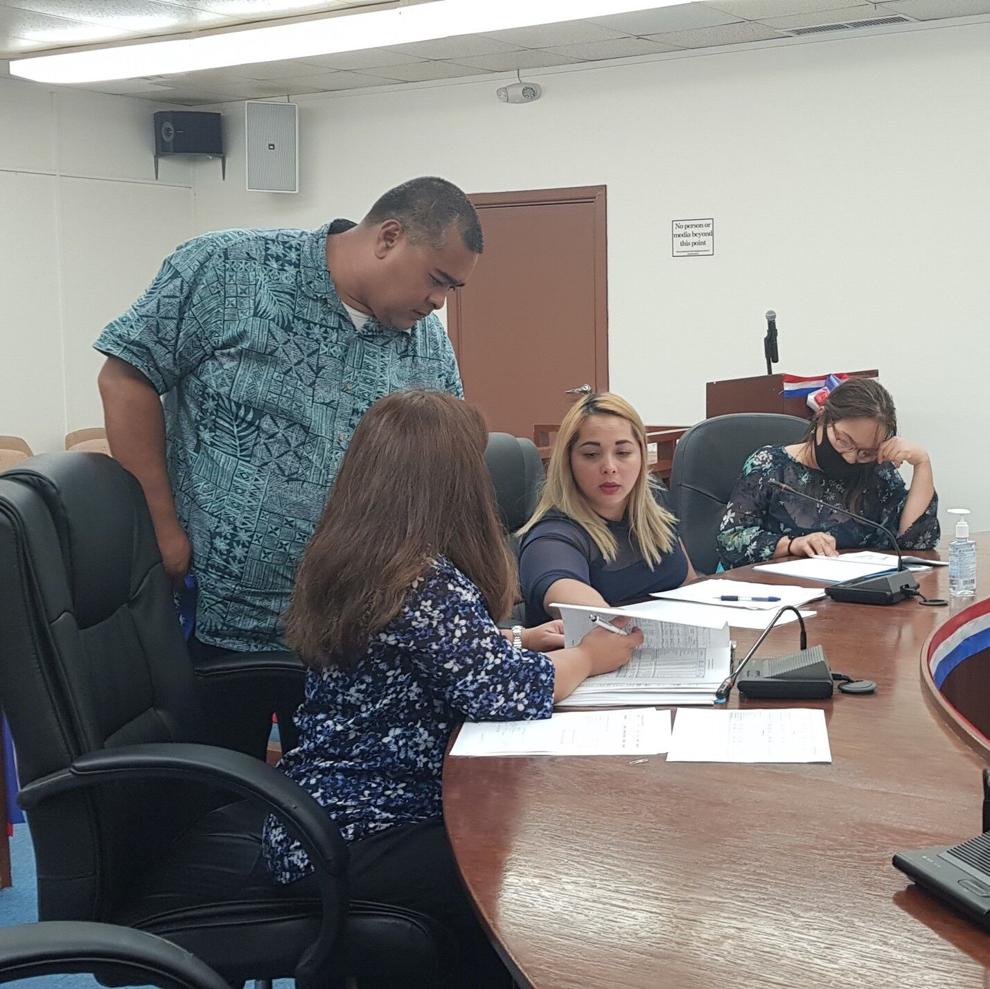 Secretary of Finance David Atalig, left standing, Marianas Visitors Authority Managing Director Priscilla Iakopo, center, along with two other MVA officials confer during the MVA budget hearing in the House chamber on Tuesday. Photo by K-Andrea Evarose S. Limol
Iakopo added that the funds for this project were for a charter boat, fuel, meals, and materials.
But according to Sablan, the recent "Deer Meat for Dinner" videos showed that more than one boat has been used for this venture, and that several personnel were also involved.
When asked by Sablan if introducing deer to  Pagan was part of the contract, Iakopo said MVA is for equal opportunity in tourism promotion, adding that the funds the agency received were not for a contract with Arrington.
Sablan pressed on the total cost of the trip, saying that several gallons of fuel were needed for the government personnel, multiple government boats, supplies, and equipment as shown, she added, in the recent "Deer Meat for Dinner" videos of the Northern Islands.
Atalig said the only funds he is aware of, with respect to the project, are the roughly $59,000 that he transferred to MVA, as well as funds taken from the Northern Island mayor's account in response to the mayor's requests for fuel and a charter to the Northern Islands, and about $6,000 in fuel requisitions submitted by the Department of Public Safety.
He said he has not seen any financial documents regarding overtime for personnel on the trip.
Press Secretary Kevin Bautista, for his part, said on Tuesday that due to weather conditions, Gov. Ralph DLG Torres had yet to return from the Northern Islands, but there has been constant communication with him regarding executive decisions that have to be made.