"Our island has beautiful beaches so let's keep them clean," club president Marcia Ayuyu said.
During the cleanup, she said they collected beer cans, foam plates, cups, used face masks, soda cans, plastic, and pieces of paper.
Rotarians pick up litter at the beach near the Beach Road pathway on Saturday.
She said the cleanup was also part of the club's Mother's Day observance.
"It's our way of paying tribute to our wonderful mothers," she added.
Besides Ayuyu, the other Rotarians who participated in the activity included Glen Perez, Brian Clayton, wife Diana, Jessy Loomis, Das Krishnan, Jessy P. Loomis, Judy Mendieta, Hiroko Stewart, and Max Kretzers.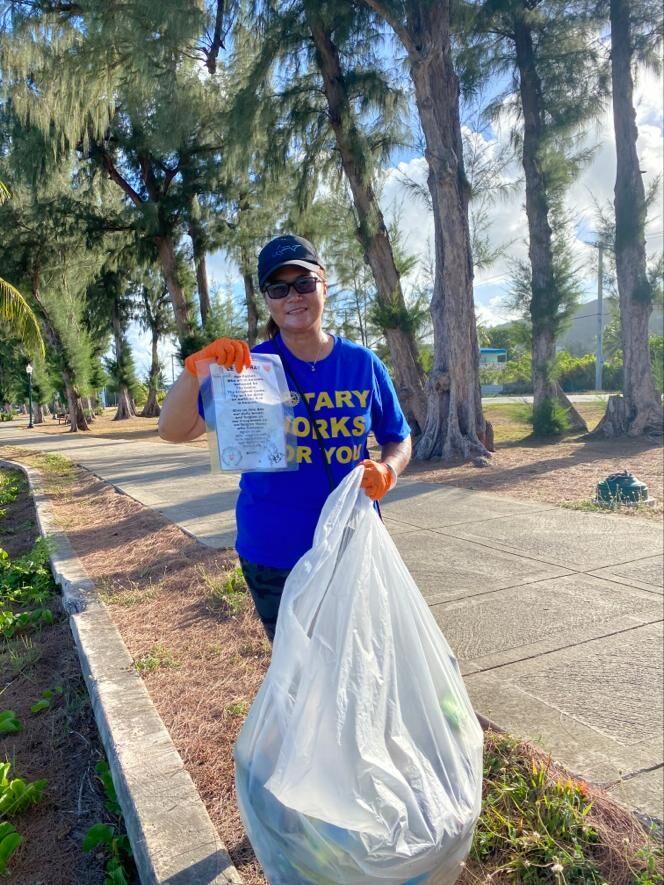 Rotary Club of Saipan president Marcia Ayuyu holds a trash bag during the beach cleanup on Saturday. Contributed Photos
On behalf of her fellow Rotarians, Ayuyu thanked D&Q International Distributors and McDonald's Saipan for donating trash bags and coffee.
"We enjoyed doing this because we have missed many meetings due to the Covid-19 crisis," she said, adding that club members want to continue serving the community. 
She said they also want to stay active, exercise outdoors, and get some sunlight.
"Again I ask the community to help maintain our beautiful island," Ayuyu said. "While they are on the beach they should throw their trash in the bins."