"I am honored to have been reappointed to my fourth two-year term on the board," Ayuyu said.
"For this term, I am looking forward to working with my zoning colleagues, community members, developers, and different stakeholders in shaping and organizing the orderly development of Saipan."
He added, "I know that there will be challenges as we balance the interests of the different stakeholders, but I am confident in the Saipan Zoning Office, the administrator, and board members' abilities to make the right decisions for the well-being of the community. The zoning board's mission is 'to improve Saipan's economy and quality of life, as well as to conserve natural and historic resources.' I am committed to making balanced decisions on the needs of the community and needs of our island," he said in closing.
Deleon Guerrero, for his part, said, "I feel honored to be nominated for a position like this because I know it has a lot of impact on how we develop our economy."
The retired servicemember looks forward to a more sustainable future for the Commonwealth.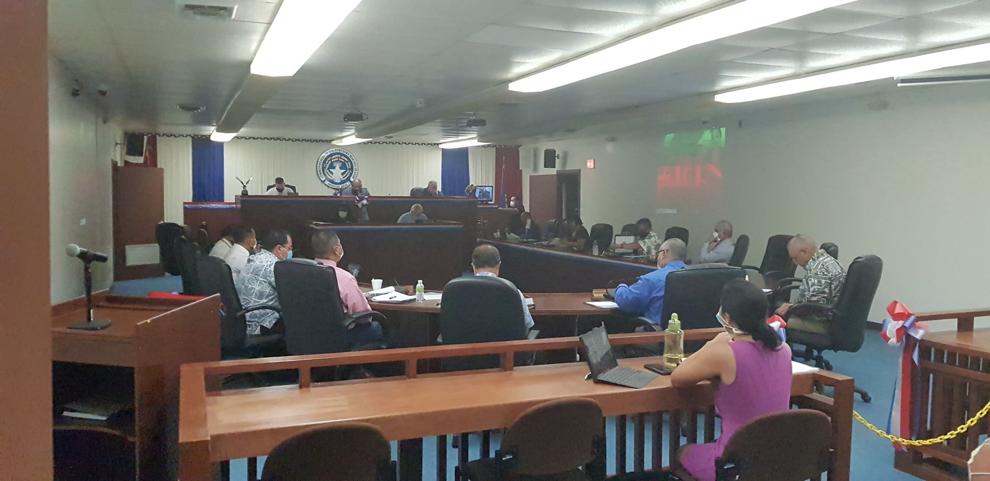 Saipan and Northern Islands Legislative Delegation members vote unanimously to confirm three zoning board nominees, Tuesday, May 26, 2020. Photo by K-Andrea Evarose S. Limol
"I want to see our economy be more robust and not too dependent on tourism," he said, adding that the Commonwealth should have something else to fall back on, should another disaster strike the islands.
He added, "I want to see a lot more exports coming out of Saipan. I don't know what those exports are going to be, but hot pepper comes to mind. I want to see something on a larger scale, something that would really contribute to our economy."
Inos said he wants to thank the delegation "and my peers for their confidence in me and my abilities to serve on the zoning board. I guess from a younger and fresher perspective, I hope to accomplish getting the regulations to be a bit clearer, helping the developers, as well as the community."
He added, "I am from here, and this is home. Making changes for the betterment of the CNMI will really help my goal and my aim to help the community as well as businesses."
The governor also nominated Juan Wabol and Dong Kyu Lee to the zoning board, but Wabol did not provide sufficient documentation to the delegation while Dong Kyu Lee failed to meet the U.S. citizenship requirement.