"That's a lot of help," he added. "We used to just have about 13 people in the field. Now we have additional help."
The mayor added that in preparation for All Saints Day and All Souls Day, Nov. 1-2, his office has been asked to assist in cleaning up the cemeteries.
"We did that last week, and we'll wait again until everyone finishes throwing their trash out, then we'll clean up again," he added.
As the mayor's office adapts and adjusts to the global Covid-19 pandemic, it also has had to adjust with the fiscal year 2021 budget for the Commonwealth, Apatang said.
"Everyone is struggling with the budget. We put in our dream sheet, but we didn't get all the things that we asked for," he said.
"But we're still managing. We're trying to conserve as much money as possible, plan ahead before we move out, and we're still performing our job for our people here on the island."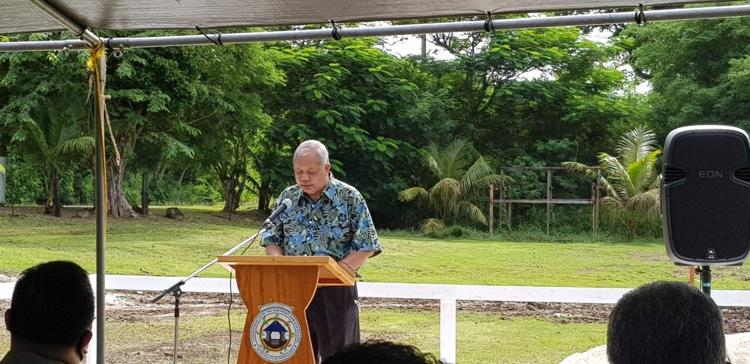 Saipan Mayor David M. Apatang speaks during the groundbreaking ceremony for the construction of the new animal shelter in As Perdido on Friday. Photo by K-Andrea Evarose S. Limol
The mayor said his personnel are out in the community every day, Monday through Friday from 7:30 a.m. to 4:30 p.m., performing their duties.
Fortunately, his office has received funding from the Technical Assistance Program as well as Covid-19 relief funds.
As for the home numbering project, the mayor said it has been allotted $650,000 and two individuals are now visiting homes in Koblerville and San Antonio.
"We're moving along," he said, adding that the home numbering system is among his priorities. "That project has been in the books for over 23 years, and we're just getting around to it [now]."
Under Public Law 21-35, or the FY 2021 Appropriations Act, the Office of the Saipan Mayor  is projected to receive $1,740,060.
Of that amount, $1,114,746 is for personnel; $595,314 for operations; and $30,000 for utilities.