The Senate vote was  6 to 1 in favor of the override.
Those who voted yes were Senate President Victor Hocog, Senate Vice President Jude U. Hofschneider, House Floor Leader Justo Quitugua, Sen. Sixto Igisomar and Sen. Frank Cruz.
Citing "check and balance" in the government, the lone minority member, Sen. Paul Manglona, voted no. Sens. Frank Borja and Teresita Santos were absent.
The bill was authored by Sen. Vinnie Sablan.
According to the CNMI Constitution, "If two-thirds of the members in each house vote upon reconsideration to pass the bill, item, section or part, it shall become law.
The House of Representatives has 20 members. This means that at least 13 members must vote for an override so the bill can become law.
Sablan reiterated on Thursday that his bill would allow OMB and the Department of Finance to become more efficient.
He said the measure does not intend to abolish OMB, but "simply aims to restructure the financial operations of the CNMI government so it is streamlined for more efficiency."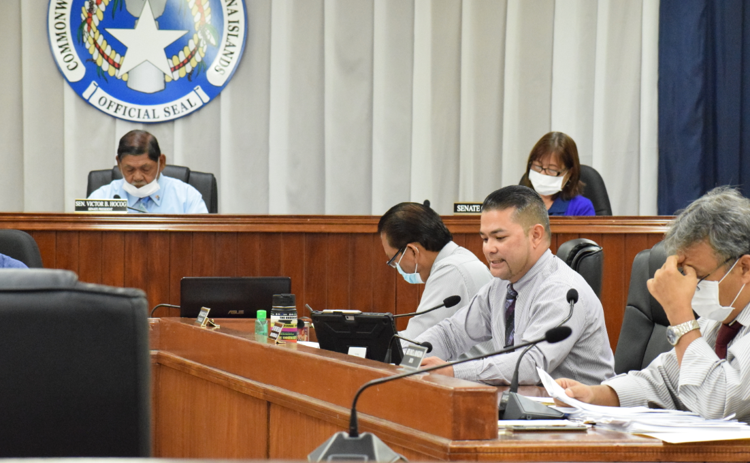 Sen. Vinnie Sablan, second right, with Senate President Victor Hocog,  Sen. Frank Cruz, Senate clerk Doris Bermudes and Sen. Paul Manglona. Photo by Emmanuel T. Erediano
In his veto message, the governor said OMB was established "to carry out what is arguably the most critical function of the executive branch and the most principal of the governor's duties and responsibilities."
He said, "It plays a significant role in my ability as governor to effectively plan and implement the priorities of the executive branch."
Sablan, for his part, cited the constitutional mandate of the secretary of Finance whose duties are to conduct all related financial management activities in the CNMI.
He said OMB was charged with the preparation of the annual budget; not to perform financial management activities, which, he added, are among the functions of the secretary of Finance.
OMB is currently headed by special assistant Vicky Villagomez whose salary is capped at $70,000 per annum. If S.B. 21-33 becomes law, Villagomez' new title will be OMB director whose salary is capped at $54,000 per annum.
Sablan said the recent Fiscal Management Summit discussed the importance of restructuring government functions so it can operate more efficiently, especially during a global pandemic.
Senate Bill 21-33, he added, is a step in that direction.