In her report to the SHEFA board on Wednesday, administrator Merissa S. Rasa said financial assistance checks totaling $754,500 have been disbursed to students enrolled in Fall 2020 classes.
The total number of applicants for Fall 2020 was 923. All applications had been approved.
Of this number, 100 are new students, 815 are ongoing and 91 are enrolled online.
According to the report, 514 of the recipients are taking up a bachelor's degree; 349, associate degree; 41, master's degree; and 23, doctorate.
The report added that 168 of the applicants for Fall 2020 are high school graduates.
Right now, SHEFA is providing grant-in-aid award only. The merit incentive award and the priority award have been temporarily suspended due to the economic impact of the Covid-19 pandemic.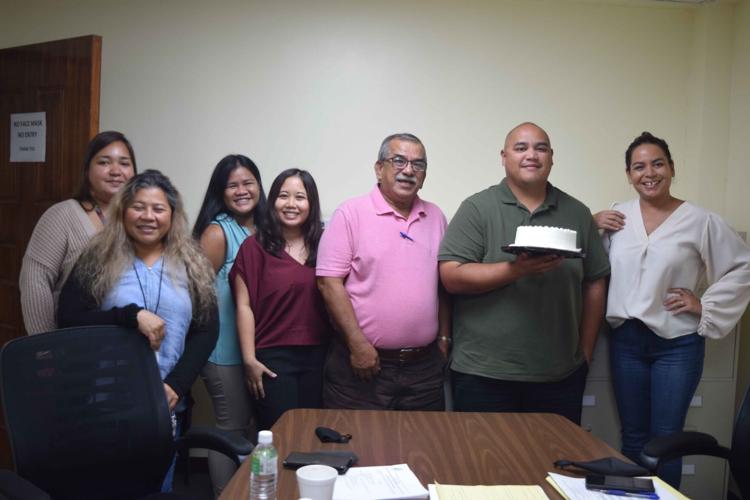 Saipan Higher Education Financial Assistance Vice Chairman Juan K. Tenorio, second right, holds his birthday cake, as he poses for a photo with Chairman Oscar M. Babauta, center, board member Kaelani B. Demapan, fourth left, administrator Merissa Rasa, right, and SHEFA staffers after the board meeting on Wednesday. Photo by Emmanuel T. Erediano
The grant-in-aid award for those enrolled at Northern Marianas Technical Institute is $600 per student; for an online off-island college, $800 per student; those enrolled at Northern Marianas College, $800 per student; and on-site off-island college, $1,200 per student.
Rasa said for the Spring 2021 semester, the deadline for  submission of applications is on Dec. 1, 2020.
The deadline for submitting Spring 2021 supporting documents is on Feb. 28, 2021.
For more information, call 233-5995/235-1020/21 or go to www.saipanshefa.net