The 15-year-old twin sisters live on the island of Tinian, populated by a few thousand residents, but have reached a larger audience after posting a new original song to YouTube.
"This song is about resiliency and perseverance," Isa Long said. "Even though people may come across hardships, as long as you remain hopeful, you will overcome the hardships you face."
Titled "Give Me A Moment," the song is performed in English and CHamoru — an important choice, the sisters said.
"We wrote the song in both CHamoru and English to sympathize with our community and showcase our beautiful culture," Cielo Long said.
"It's like the world has caught on fire, and we're all afraid to move," the identical twins sing in "Give Me A Moment."
Going through the Covid-19 pandemic has allowed them to cherish time with their family and appreciate the little things in life, they said. The teens, who are students at Tinian Junior Senior High School, said after their social lives were impacted by the pandemic, they learned to be resourceful.
"It's like we've all lost a player, and now we're all afraid to lose," the girls sing in the song's second verse.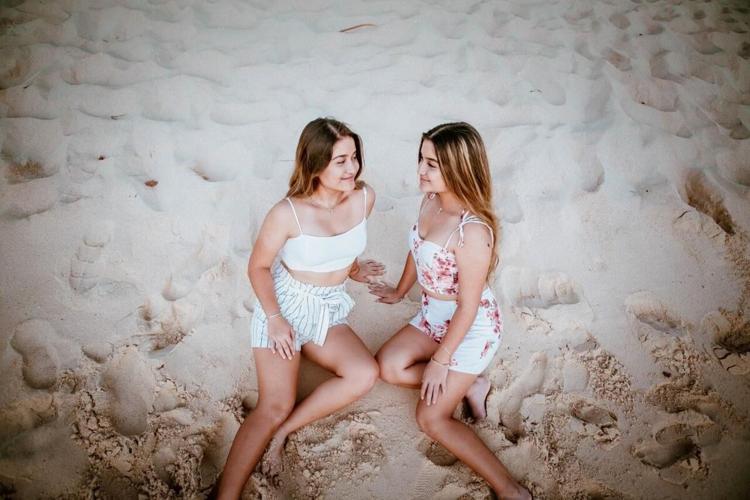 Teen twins Cielo and Isla Long wrote a song about resilience during the pandemic entitled "Give Me a Moment" which they shared on their YouTube channel. Photo courtesy of the Long family
A hopeful message
With lyrics including, "Know that there's good times beyond all the pain. Know there's sunshine beyond the rain," they co-wrote the song to "provide a positive outlook" for those struggling during the pandemic, they said.
The sisters said they plan to keep making music through the pandemic and beyond.
"We hope to share our talent with the world one day," Cielo Long said. "It has always been a dream to pursue music as a career together."