Titled "Diversify Now: Growing Our Economy in 2021," this second session of the "Work Together" webinar series focused on utilizing technology to diversify local economies.
Raya Bidshahri from Awecademy presented "Accelerating Growth through Exponential Innovation," emphasizing mindsets for innovation.
"It's not just about skills and competencies," she said.
The Iranian educator and entrepreneur discussed exponential thinking, moonshot thinking, embracing failures, scientific thinking, intelligent optimism, edge versus core innovation, and critical thinking.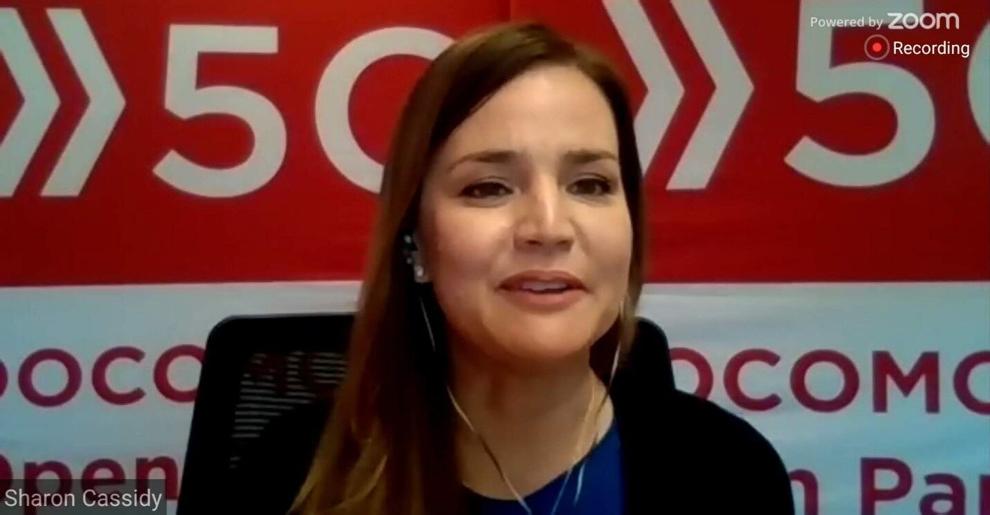 Sharon Cassidy of Docomo Pacific speaks during a webinar on Wednesday. Photo by K-Andrea Evarose S. Limol
Bidshahri, who founded the online learning platform, Awecademy,  talked about "The Lean Cycle," which focuses on building, measuring, and learning in the business world, identifying target customers and their needs, and designing a product based on discoveries.
"Erase the outdated system. Build a new one," she said.
5G Era
Zaif Siddiqi of NTT Docomo Inc. presented on the topic, "Accelerating Digital Transformation in the 5G Era."
NTT Docomo Inc. is based in Japan and has generated $45 billion in operating revenues, $8 billion in operating profit, and 80 million mobile phone subscriptions.
Its business model focuses on reinforcing customer relationships and "co-creating with partners in the smart life area."
Customer relationships are reinforced through rate plans, customer touch points, and network, which result in the expansion of the customer base.
Siddiqi said digital transformation has resulted in trillions of dollars in benefits to industries and societies.
Docomo Pacific Enterprise director Fuyumi Kuwabara, for her part, talked about remote medical equipment training, which allows one to learn the operation of the latest medical equipment without traveling,  as well as operating a 360-degree camera to watch an operation from multiple angles, obtaining multiple information picture by picture.
Business hub
Dr. Kenneth Choie of the University of Guam presented on "Guam as the Next Business Hub in Asia."
He emphasized three prerequisites: connectivity, the rule of law, and the low cost of doing business.
Connectivity involves easy access to suppliers and customers, while the rule of law is centered on property right, reliable application of law, data or intangible asset protection, social stability, and visa for foreigners.
The cost of doing business, he said, involves tax rates, currency exchange rates, infrastructure, languages, and social trust or morality.
In order to make Guam more enticing to investors, Dr. Choie emphasized the importance of corporate income tax  and gross revenue tax rates.
Clean industries
Frank P. Arriola of Menhalom, LLC presented on "Diversifying the Marianas One Tech at a Time," pointing out that the Mariana Islands have hinted toward diversification for years now.
He expounded on clean industries, cybersecurity and data protection, government support, the rule of law, tax incentives, labor attractiveness, and turnkey setup services.
Sharon Cassidy of Docomo Pacific presented the topic "Innovating Connectivity in the New Norm," which emphasizes paving new roads to information, such as submarine cables or fiber optics.
"With more business and education moving to an online presence, the demand for connectivity has greatly increased," she said, pointing out platforms such as Facebook Live, Instagram, online ordering, homeschooling, and pop-up stores.
"Just as infrastructure needs to be assessed, like new roads in developing cities, our 'highways of information' need to be evaluated with the increase of traffic."
Cassidy said Guam has an impressive number of cable systems landing or transiting between the U.S. and Asia, and pointed out that with the flow of information comes economic opportunities and "new roads" to take.
However, subsea fiber is not the only option for connectivity, she said.
Satellite is an existing and expanding segment of the communications market, she said, adding that connectivity to remote islands with limited subsea routes is just as vital.
Banking, shipping, retail, and many more industries, she said, rely on communications to maintain the flow of commerce.
"We protect our network by ensuring [that] we don't only have one path for our connectivity," she said.
Cassidy said by establishing multiple points of presence, or POPs, throughout Asia and the U.S., Docomo Pacific has built an extensive network to protect access to all important applications that exist.