(MV) — As Marianas Variety enters its 49th year in business, we continue to celebrate our long-standing traditions, while also looking to the future and continuing to innovate for what's next.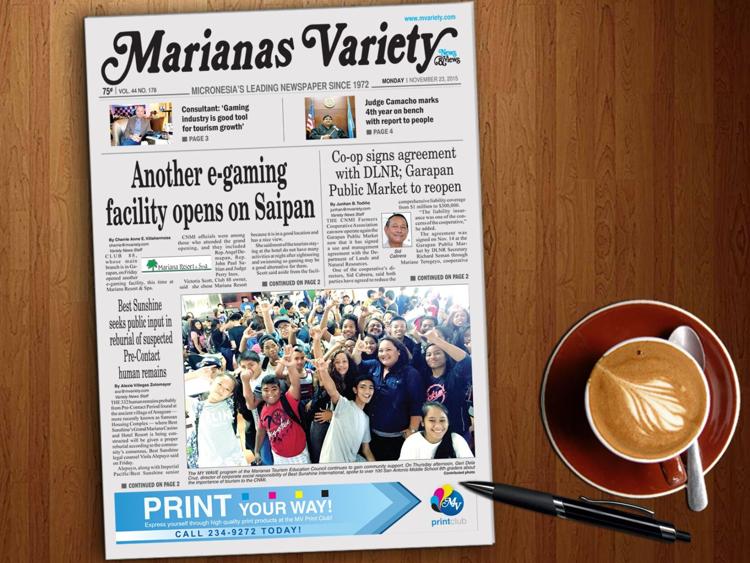 With the start of 2021, we are excited to announce our new website, which launches today. Readers can still find us at mvariety.com, but you can expect to find a more streamlined interface, more customized news, enhanced imagery and video, and many new features.
Later this month, we'll also launch our first mobile app. From breaking news alerts to customized news preferences, the latest local and regional news will be available in the palm of your hand.
While many know Marianas Variety for its News & Views, we also operate a full-service commercial printing business. Throughout 2021, we'll continue to add to our offerings and printing capabilities with larger print sizes, more print mediums and even more innovative products for your local printing needs.
New features
Marianas Variety's website will still have the latest news of the CNMI and beyond, and we have many new features to keep you informed.
Subscriptions
Purchase a print or digital subscription and manage your subscriptions online with ease. Our new website allows you to change address, contact us with any delivery issues, send a subscription gift, pay your bill, and schedule a vacation stop and restart. Check out all of the new features by clicking here. 
E-Edition now available
We now have an e-Edition subscription available. Receive an exact replica of the printed newspaper and access through any device. Check it out by taking advantage of our free seven-day trial. Click here to get started.
Announcements
Have an anniversary, birthday, wedding, or graduation announcement you'd like to share with the community? You can now submit your special announcement directly on mvariety.com Simply fill out our online form and include a photo if desired. We'll post the announcements online and in print to spread your message. To add your announcement, click here.
Obituaries
You can now submit an obituary via our website for online and print publication. Fill out our form with the option to include details and photo. Click here. 
Events
Post your event for free in the most comprehensive community calendar for all kinds of events. Businesses, non-profits and individuals can submit community events at mvariety.com. These submitted events will be featured on our community calendar to help spread the word and increase your event turnout. To submit your event, visit mvariety.com and search for the "Promote Your Event" section along the right-hand side of the site.
Place Your Classified Ad
You can now place your classified ad for print and online publication easily on mvariety.com. Whether a job vacancy, item(s) for sale or rent, government or legal notice, you can follow our simple online form to create your ad. Pay directly online and your ad will be sent to our sales team to finalize your order. To start your classified ad order, click here.
Place Your Free Ad
Want to sell an item valued under $500? You can advertise it free of charge! Marianas Variety  offers a free ad placement online and in print. Simply fill out our online form with a brief item description and your contact information. (All free ads are subject to review and approval by Marianas Variety.) To place a free ad, click here.  
Newsletters
Create a free user account on mvariety.com to sign up for newsletters sent directly to your email inbox. Choose from business updates, daily headlines, lifestyle news, local classifieds, local offers, local sports, local weather, news alerts or best of the week. You can easily manage which newsletters you'd like to receive anytime in your account to add or remove the newsletters you receive. Learn more about our newsletters here.
Submit News Tips or Letters to the Editor
We want to hear from you. Easily submit a news tip or a letter to the editor via our website. To submit a news tip, click here.
To submit a letter to the editor, click here. 
Stay tuned for more exciting announcements throughout 2021!