(NMTI) — McDonald's of Saipan has once again renewed its vow to assist the Northern Marianas Technical Institute implement its workforce development strategy.  The Ayuyu family reiterated their time-honored pledge to sustain our resident workforce.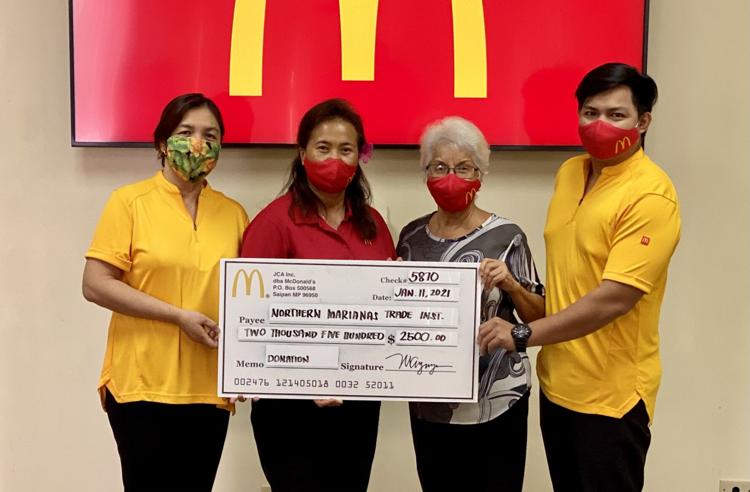 "As part of our company's continuing effort to develop skills that help local employees, we are happy to present to NMTI the amount of $2,500 and wish to thank the NMTI board of directors for their dedication toward developing local talent," said Marcia E. Ayuyu, vice president & owner/operator of McDonald's of Saipan. 
This marks the fifth occasion that McDonald's has bestowed their confidence in the trade school, marking over $20,500 in cash donations over a period of five years. 
"It is important to note that McDonald's educational tax credits have already been committed to other worthy organizations and yet they find it in their hearts to continue giving, for this we are truly blessed," said Agnes McPhetres, NMTI's chief executive officer.
The school's relationship with the Ayuyu family began by mere chance at NMTI's first gala dinner at the Hyatt Regency in 2016. 
Seeing something special in the school that evening, Joe Ayuyu Sr. wrote a check in the amount of $3,000.
"Our community is so fortunate to have educational benefactors like the Ayuyus who actively subscribe to our home-grown sustainability approach," McPhetres said.
"The workforce data hasn't changed much since 2008," she added. "The CNMI continues to be plagued with the dilemma of addressing its ongoing shortage in the skilled trades areas.   Our leaders are faced with the tough decisions ahead on whether we continue to beseech Congress for extensions of federal policy or are we going to address this problem by supporting the 'hard-skilled' professions by adequately funding them.  I firmly believe that our community is beginning to see the need for NMTI and see beyond the rhetoric, thus the untiring contributions from the private sector," McPhetres said.