THE Micronesia Islands Nature Alliance, through its Monofilament Fishline Collector Project, has provided bins around Saipan for the collection of used monofilament fishing lines.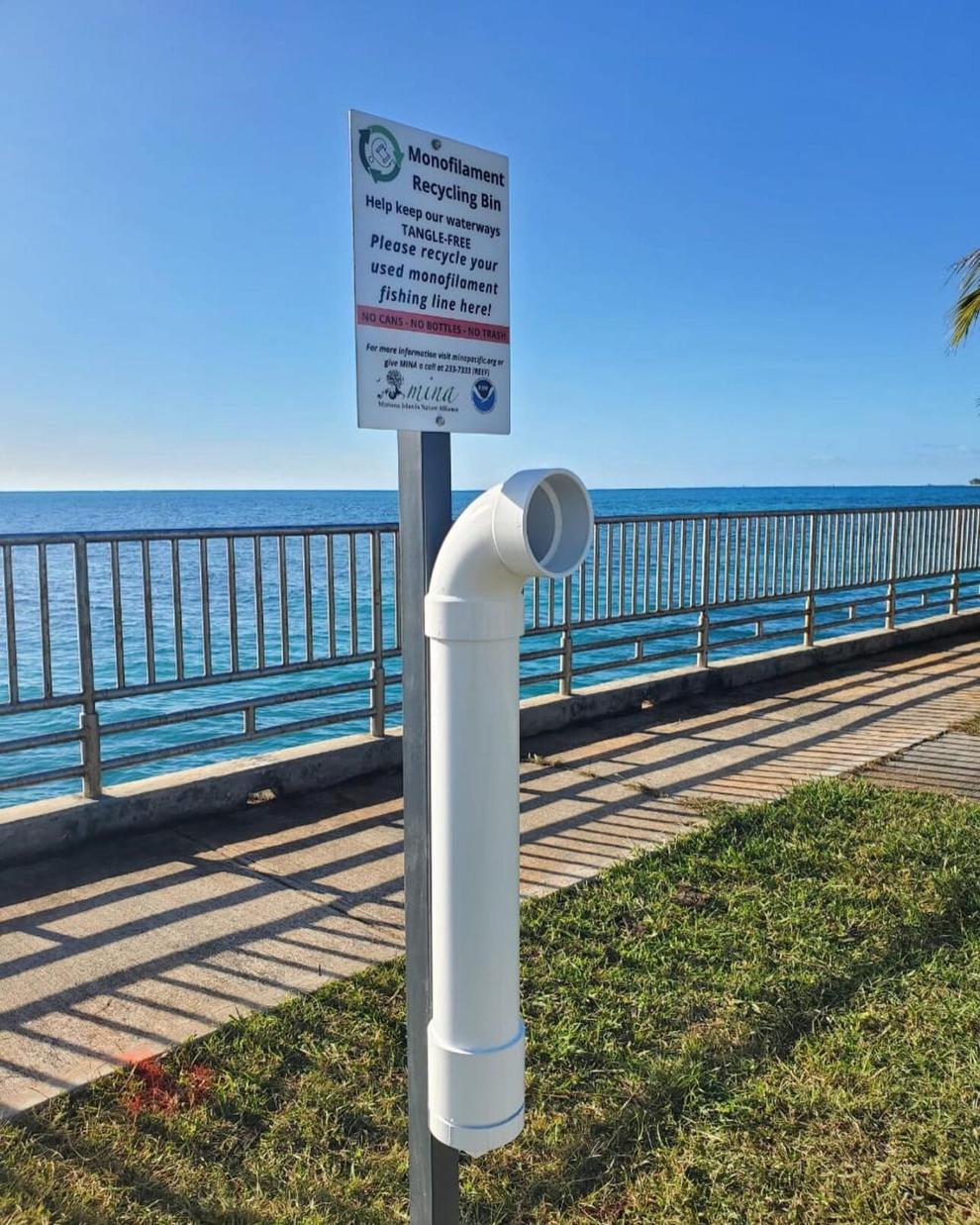 Citing the organization's mission statement, "Empowering Communities for Conservation," MINA Executive Director Roberta Guerrero said in an interview on Tuesday, "We felt that this pilot project would benefit the fishing community and provide them with the opportunity of helping to conserve our precious ocean resources."
The project was initiated about two years ago, she said, when the opportunity was brought to MINA's attention by the National Oceanic and Atmospheric Agency Fisheries Division of Pacific Islands Region Program Office.
Ten monofilament bins were fabricated locally by Ideal Signs with the use of PVC pipes and fittings, based on models that had been successfully used in other coastal areas across the United States, said Guerrero.
Ideal Signs then installed the finished bins and signs around the island, six placed at the Outer Cove Marina, two at Garapan Fishing Base, and two at Sugar Dock.
Guerrero said the locations of these bins were selected based on observations from Pacific Islands Region Program fisheries experts in coordination with the CNMI Division of Fish and Wildlife. Moreover, permits and permissions were granted by the National Parks Service and the CNMI Department of Public Lands.
The bins are designed to collect used monofilament fishlines that could otherwise be washed into the ocean if left onshore, Guerrero said, adding that this type of debris is lethal to turtles and fish, often causing entangling or being mistaken for food, causing a high mortality rate.
Made out of durable PVC plumbing pipes, the bins are rust-proof and have been installed using techniques designed to be weather-resistant, she said.
They will be maintained by community volunteers and will hopefully be used for years to come, Guerrero added.
Asked why the project is only kicking off now and not sooner, Guerrero said obtaining funding and approval for the project was a long process.
"But after two years, it was finally brought to fruition," she said, adding that $6,000 for the project was made available by NOAA to cover the costs of fabrication, installation, signage, and advertising for the 10 bins
There was no funding included for the maintenance of the bins, so the service is being provided by MINA's community volunteers, Guerrero said.
"The community's engagement thus far with these bins has been very positive, and hopefully more funding will become available in the future to have more bins installed at popular fishing locations in the CNMI," she added.
MINA would like to respectfully remind the community that these bins are designed solely for the collection of fishing lines, not other trash.
"Please bring out what you bring in," Guerrero said.