(MCS) — Mount Carmel School congratulates these students for making it to the 2nd Quarter President's List & Honor Roll.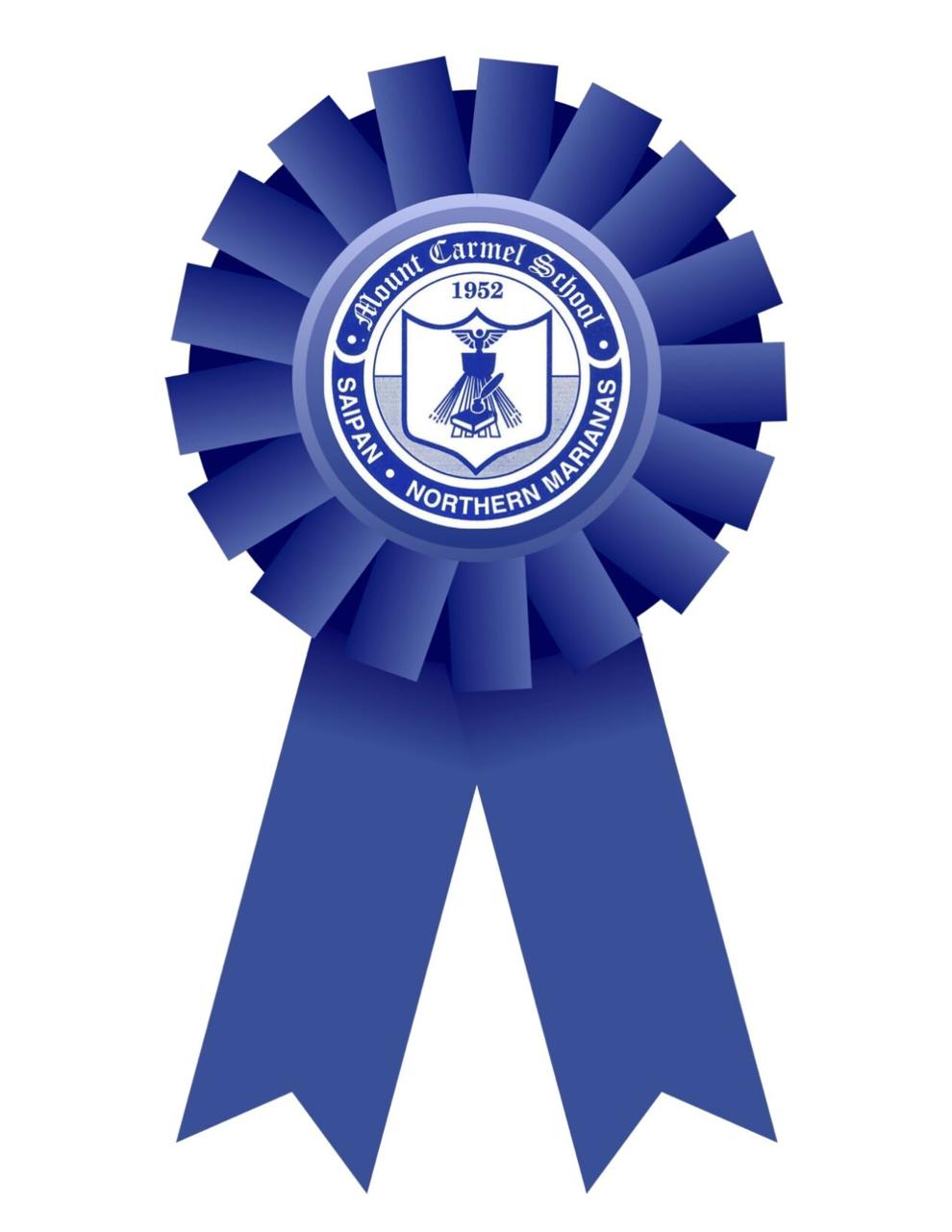 President's List
Students must have a GPA of 4.00 or above and must attain character marks of VG or above.
1st Grade
Aiden Ray Cepeda
Aiesha Sadie Camacho
Aleaya Bermudes
Carina Guerrero
Chloe Nicole Arnold
Crystin Pangelinan
Ezekiel Ma'Nu'I Villagomez
Gabriella Jo Tenorio
Jake Hiram Maratita
Jamara Jayde Cabrera-Sablan
Kaiya Isabel Pangelinan
Khoen Alexander Coldeen Torres
Lucia Jauhn Deleon Guerrero
Maven Borja
Naomi Elizabeth Benjamin
Prescott Jonathan Cabrera
Sinako Annette Leiyangscheng Tagabuel
Youngwoo Choi
Yuna Yu
Zane Fujihira
2nd Grade
Aiyana Pangelinan
Alesa Ilmova
Anah Bellah Guerrero
Chloe Jane Militante
Clarise Garamonte
Friella Huanne Dela Santa
Ivan Fernand Fortades
Jake Peter Deleon Guerrero Jr.
Jonathan Zhang
Kendra Elise Camacho
Kirk Ivan De Perio
Logan Propst
Neia Dolana Noreyemal Tagabuel
Okamura Jaxon Itisoorschigh Tagabuel
Scarlett Shae Salas
Sera Guerrero
Seungwoo Lee
Tone Yoshise
Viane Johanna Magboo
Vinae Jaydene Pua
Vince Angelo Estella
Yu Ma
Zayne Reyes
3rd Grade
Adelle Jane Kautz
Aiyah Elise Igitol
Amber Faith Militante
Ava Carmina Sablan
Avah Mae Delacruz
Cali Jade Cabrera
Chloe Anne Marie Matsunaga
Chloe Cepeda
Daniel Kang
Ezaela Patrice Camacho
Hyunseo Yun
Jeongwoo Choi
Ji Woo Lee
Karl Angelo Diaz
Kathleen Cano
Kennani Vinae Villagomez
Ki Eun Lee
Lydia Xian
Mechaet Masaki Rechucher
Miana Dolores Delacruz
Paige Kanae Cabrera
Talina Aguon-Mcclure
Victoria Eve Terlaje
Von Derick Lauron
4th Grade
Jamie Nicole Pereira
Jaze Enzo San Nicolas
Joey Claude Mostales
Kainoa Tenorio
Trisha Juliana Abuan
5th Grade
Arstin Itibwulschigh Tagabuel
Aya Santos
Cassidee Jolina Flores
Cecilia R. Villagomez
Ciana Lei Demapan
Cyril Michael Pangilinan
Do Geon Kim
Dylan Niric
Gabriella Aundrea Inos
Isabella Soledad Demapan
Jadine Nicole Pangelinan
Janessa Francine Arriola
Jayson Jared Tagabuel
Jener Franz Pineda
Jessi Chen
Julius Sheu
Katherine Hwang
Kayla Larson
Kingston Isaiah Deleon Guerrero
Layla Carmen Ann Palacios
Siwoo Lee
Tanner Larel Mcclure
Ye Lynn Ha
6th Grade
Akoni Jesus Matsumoto
Carly Kate Dela Cruz
Chan Seo Yeom
Chan Woong Yeom
Christine Rosanne Castro
Christopher James Dela Cruz
Hiromi Rosa Sasamoto
Hope McQuay
Iris Maleia Rasa
Jeffrey Concepcion
Jose Clarence Tenorio
Juliana Magan Subang
Justin Mallari
Kaden Christian Propst
Kaitlyn Alexza Drilon
Ki Won Lee
Maya Jae Jung
Maya McQuay
Naomi Skye Matsumoto
Nicole Angela Pangilinan
Patricia Matsumoto
Sage R. Villagomez
Sarah Angela Melchor
Seungwoo Choi
Stephanie Joyce Sevilla
Taher Shakir
Wayne Dominic Ano
7th Grade
Ainsley Ancheta
Asa Backe
Ayanna Faith Matsumoto
Camron Zavier Pangelinan
Chae Eun Kim
Emmanuel Pontiveros
Gavril Myles Santiago
Jessiana Tenorio
Kate Nicole Cabalbag
Kayli Ari Salas
Leonard Jake Regalado
Mikayla Castro
Patricia Denielle Lugtu
Quince Emanuele Tizon
Raina Park
Seunghee Jeon
Sophia Tenorio
Valerie Anne Estella
Victor Nash Santos
William Matthew Cano
8th Grade
Ari James Toskas
Audrein Jennifer Mallari
Hitomi Rosa Sasamoto
Irene Kim
Irie Kane Camacho
Jaeyun Jung
Jamie Lee
Jay Francis Dominic Pineda
Kaeli Pathil
Kelly Zheng
Kenneth Castro
Laizza Vianca Mallari
Latisha Anne De Jesus
Malina Rose Tenorio
Princes Amanda Habal
Tricia Antonnette Palacios
Vayden Matagolai
9th Grade
Avah Marie Torres
Brandon Lee
Jonathan Sheu
Ruben Guerrero
Tyana Kisha Tesiro
Xin Wen Jin
10th Grade
Brent Matthew Ortizo
Donnie James Jr. Militante
Francine Monique Albuen
Gerald Jr. Deleon Guerrero
Jazmyn Phoeme Lopez
Jill Anne Marie Mallari
Keehara Nielsen Baldazo
Kina Dela Cruz
Kyla Monique Cabrera
Leopoldo Naraja
Leunyce Regalado
Manuel Jacinto Pangelinan
Raven-Mae Driver
Yurihana Rosa Sasamoto
11th Grade
Aleia Santos
Christian Guerrero
Fiona Marielle Bucalig
Hannah Lacap
Hyunkyu Park
Jeffrey Sheu
Jeremiah Jerome Diaz
Joshua Donovan Tenorio
JunBeom Kim
Larry Dean Cruz
Monique Laura Duenas
Raesyl Gerard Solis
Richard Jesus Villagomez
Robin Kyle Alvarez
Theresa Rose Schweiger
Vaughn Andrei Mallari
Victoria Ancheta
William Nathaniel Ano
12th Grade
Bernard Angelo Marcelo
Brandee Hunter
Brian Youn
Carmille Perez
Christian Dean Palattao
Connie Zhu
Jieyu Lin
John Isaac San Nicolas
Katherine Avendano-Woodruff
Kevin Kang
Kyle Attao
Mikee Mame Mendoza
Puti'on Palacios-Camacho
Raymalyn Guanlao
Seungwoo (Raffy) Lee
Sinahi Ray Cepeda
Skyler Poon
Trinity Cruz
Victoria Nicole Santos
Vince Philip Salvador
Xavier Gatmaitan
Honor Roll
Students must have a GPA of 3.66 or above and must not have any behavior grade of U or NI.
1st Grade
Aycee Rianne Quitugua
Candize Paige Delos Reyes
Felix Ryan Tomokane
Gino Marvin Deleon Guerrero
Jace Pangelinan
Jack Joseph Junior Sablan
2nd Grade
Adam Spencer Dela Cruz
Aliyani Basa
Avril Hershey Dimaculangan
Brayden Luke Repata
John Damien Sablan
Joseph Francisco White
Madden Anthony Deleon Guerrero
Minjoon (Michale) Jeon
Oliveeah Julee Kaipat
Qoheleth Thomas Blas
Soli Maratita
Zion James Ulloa
3rd Grade
Francisco Joseph Cruz
Franko Ray Tudela
Heaven Agnes Deleon Guerrero
Jayda Milan Torres
Jeremy Terlaje
Khylee Ysabelle Santos
Krish Devjani
Mikayla Guerrero
Reef Cole Reyes
Ye Lei (Bruce) Song
4th Grade
Caydince Raine Masga
Leighton Tomokane-Tenorio
Leonmar Jaedon Regalado
Logan Matsumoto
Maria Guerrero
Mia Guerrero
Miguel Garret Mendoza
O-Ren Fumiyo Sasamoto
Payton Thomas Pangelinan
5th Grade
Aubrey Rae Quitugua
Francisco Maratita
Ju Hwan Hyun
Kimason Cabrera
Remiegem Melchor
6th Grade
Aiden Manuel Wesley
Elle Brie Tudela
Enzo Umeki Sasamoto
Ethan Jayce Tomokane
Frank Anthony Reyes
Jee In Lee
Jupri Torres
Kesiil Camacho
Matthew Guerrero
Patrick Guerrero
Pedro Jose Tomokane
Yukiko Kiyomi Sasamoto
Yuliana Lorenza Maratita
7th Grade
Alexandria Dysangco
Andrick Poon
Annieskha Arreza
Arwen Hannah Bartolata
Elise Maratita
Heleyna Frielle Dela Santa
Joseph Brandon Pangelinan
Julie Anne Chavez
Lance Jericho Javier
Luis Manibusan
Mya Pangelinan
Oscar Bien Buenaflor
8th Grade
Andrei Kaithlyn Chavez
Aryana Carmen Taimanao
Breana Ysabel Patawaran
Chelsy Anne Reyes
Claire Regina Kautz
Dylan Santos
Earl Pete Jacob Lacandazo
Jada Chang
Jee Woo Son
Lyssa Rae Steele
Maili Peter
Mia Ysabela Abuan
Nicole Erin Mariano
9th Grade
Angel Li
Arman Kaito Rechucher
Breanna Sue Mafnas
Camille Alannah Sablan
Devin Jordan Propst
Earle Gabreil San Nicolas
Gwen Tiffany Gamab
Ierlyma Nicole Deleon Guerrero
Jeery Chen
Juliana Vergara
Kevin Zheng
Kriselle Bryana Mitzy Drilon
Leo Bang
Leyonne Alfred Tolentino
Maria Torres
Mark Jainier Chavez
Minki Jung
Natalie Gabrielle Ano
Palikkun George
Paul Angelo Santos
Sanghyeok Lee
Sophia Camacho
Tian Si Xu
Ye Jin Ha
10th Grade
Aubriana Maria Sablan
Brissa Hunter
Carlo Crisdeo Diaz
Clint Allen Irang
Da Hyun Shim
Derek Moritaro Sasamoto
Erin Frink
Iver Jude Dimaun
Kayannie Ilifighar Peter
Mathew Adrian Sablan
Moeisha Eleanor Cruz
Raeka Shereen Lantin
William Xue
11th Grade
Christopher Adam Mafnas
Cory Lee
Hyunjun Kim
Jihwan Ryu
Kiana Lei Propst
Regina Huerto
Yu Jeong Son
12th Grade
Hwan Hee (Shaina) Lee
Kadie Verlyn Aldan
Lina Lee
Maria Ayuyu
Reuben Christian Tomboc