THE CNMI is the U.S. jurisdiction with the most administered Covid-19 vaccination shots, the Centers for Disease Control and Prevention stated in a recent report.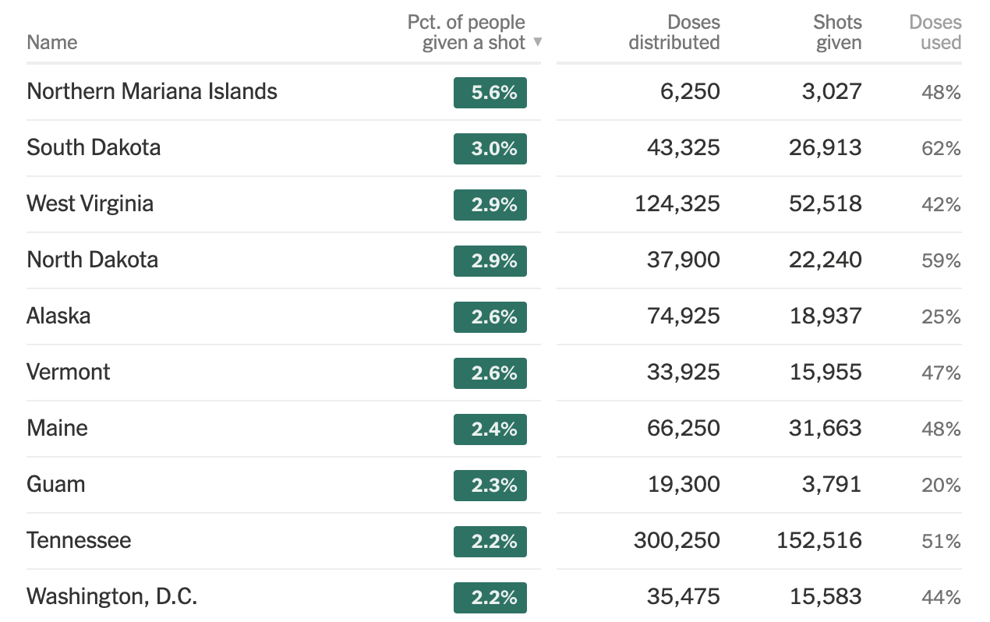 "This is a testament to our strong leadership from our Commonwealth Healthcare Corporation led by [chief executive officer] Esther Muna, our Covid-19 task force led by chairman Warren Villagomez, our doctors and nurses, our private partners, and the cooperation of our community," Gov. Ralph DLG Torres said on Tuesday.
He expressed his gratitude to every eligible individual who has gone out to receive a vaccination under phases 1A and 1B — these include the manamko', medical workers, first responders, and government employees.
"We look forward to continuing the vaccination of our people, especially as we transition into the general public. Together, we can overcome this pandemic once and for all," he added.
The CDC reported that over 4.8 million individuals across the country have received a dose of the Covid-19 vaccine.
This falls short of the federal government's goal to have at least 20 million people vaccinated before the new year.
In the CNMI, 5.7% of the population has been given a shot.
The central government has distributed 14,050 doses of the vaccine and 3,083 shots, or 22% of the doses, have been administered.
South Dakota, West Virginia, North Dakota, Alaska, Vermont, Maine, Connecticut, Tennessee, and Guam trail not too far behind.
Guam has administered the vaccine to 2.3% of its population, ranking 10th in the nation in terms of how many shots have been distributed and given.
"It's pretty self-evident… As of January 4, the CNMI is number one in terms of vaccination rate," said Press Secretary Kevin Bautista.
The vaccines for the prevention of Covid-19 were developed by Moderna and Pfizer-BioNTech, which were issued emergency use authorization by the U.S. Food and Drug Administration.
Those who are vaccinated must receive two doses of the vaccine at an interval of 21 days for the Pfizer-BioNTech vaccine and 28 days for the Moderna vaccine according to the FDA.
As of Wednesday, the CNMI had 125 positive Covid-19 cases since March 2020.
Of this number, 99 were identified through travel screening, 10 through community screening, and 16 through known contacts.
Of the 99 inbound travelers who tested positive for the virus, 56 originated from the U.S. mainland, 32 from a U.S. territory, and 11 from a foreign country.
For more information about the CNMI's Covid-19 vaccine and vaccine-related information, visit https://www.VaccinateCNMI.com