THE Commonwealth Healthcare Corp. as of Wednesday afternoon had administered over 850 doses of the second shot of the Covid-19 vaccine.
The vaccination period for the second dose started Jan. 9 for persons who are bedbound or homebound due to health conditions while the vaccination for the first dose proceeds as planned.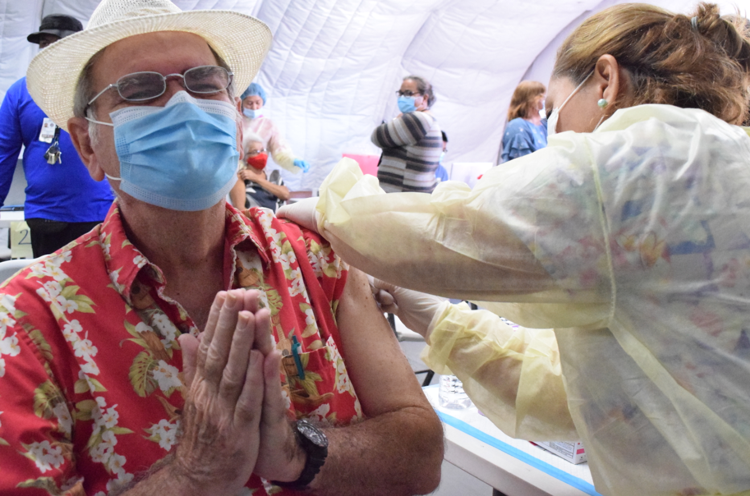 According to CHCC Chief Operations Officer Subroto Banerji a total of 4,300 people had been vaccinated as of Wednesday.
These include those who are bedbound/homebound due to health conditions; those who are 65 years old and older; health workers and frontline first responders; government employees; telecommunications employees; and Covid-19 contractors.
Those who received their second dose on Wednesday included Commonwealth Casino Commission Chairman Edward C. Deleon Guerrero, Northern Marianas Technical Institute Chief Executive Officer Agnes McPhetres, Commonwealth Cancer Association Executive Director Juan L. Babauta and retiree Jack Angello.
CHCC Chief Executive Officer Esther Muna, for her part, commended the people and other agencies who are involved in the vaccination process.
She said aside from the CHCC staff and the call center agents, these include personnel from the Department of Fire and Emergency Medical Services and the Department of Public Safety who are maintaining an orderly process of vaccination.
Muna said they operate every day,  24/7, to, among other things, monitor the freezer to make sure the vaccines are intact and meet the storage standard requirements.
"So there's a lot of cooperation throughout [the process] and there is a lot of people that we want to thank for making all this work," Muna said.
CHCC staff continue to work night and day to make sure that none of the vaccine is wasted, and to get them to the people who need to get their shots, she added.
A dose of the Covid-19 vaccine can remain in the syringe for two hours only. This means that there has to be a person ready to get vaccinated within two hours, Muna said.
That is why CHCC and the Task Force are advising members of the community not to miss their appointments, she added.
"It is very important that they receive the second dose of the Covid-19 vaccine," she said.