JOSEPHINE Mesta, director of human resource of Hyatt Regency Saipan and one of the founders of the Society for Human Resource Management-NMI chapter, administered the oath of office to its 2021 board members on Wednesday.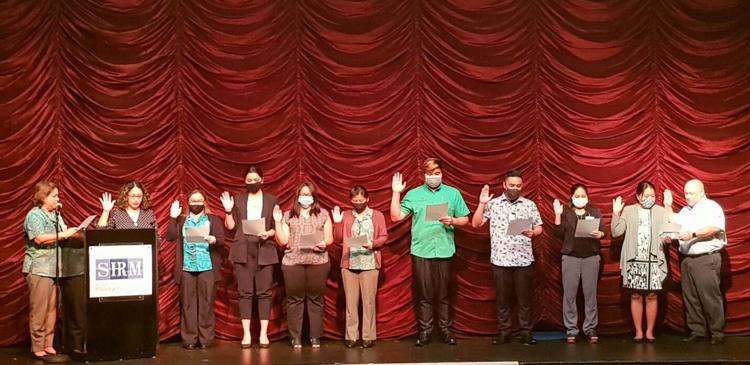 They are chapter president Penelope Jones from Hyatt Regency Saipan; vice president Jacklyn Michelle Atalig from Docomo Pacific; secretary Nicole Babauta from the CNMI Department from Commerce and Northern Marianas College; treasurer Denise Montenegro from Hyatt Regency Saipan; membership director Angelo Rabe from Kanoa Resort Saipan; marketing director Roman Tudela from the Commonwealth Healthcare Corporation; programs director Vanessa Deleon Guerrero also from CHCC; legislative director Catherine Cachero from Marianas Legal Strategy Group LLC; certification director Frank Gibson from HR Support CNMI; chapter advisors Francisco Ada from Triple J Saipan Inc. and Shirley Dotts from IT&E; and past president Proserpina Magofna from Crowne Plaza Resort Saipan.
Jones said the main focus for this year is the chapter's membership, as well as certification.
"We [also] want to focus on our members and non-members, and try to come up with ideas and topics that would be more of interest [to] the public as well."
The chapter distributed survey forms to all of the event participants on Wednesday to get feedback on what topics they would like the SHRM-NMI chapter to discuss this year.
"Based on the survey we have, there is so much about [Covid-19 and] coming back to the workplace, but what we need to be cautious of are the employees and employees' rights," Jones said.
In the coming days, Jones said the chapter will have set its goals for this year.
"It's a new year… Things are going to be very different this year," she said.