(NYMWPS) — To continuously support and help the guardians and protectors of the West Philippine Sea, the National Youth Movement for the West Philippine Sea has been organizing benefit concerts to raise funds to provide and supplement their basic needs,  says Saipan-based Dr. Celia Lamkin, founder and global chairperson the group.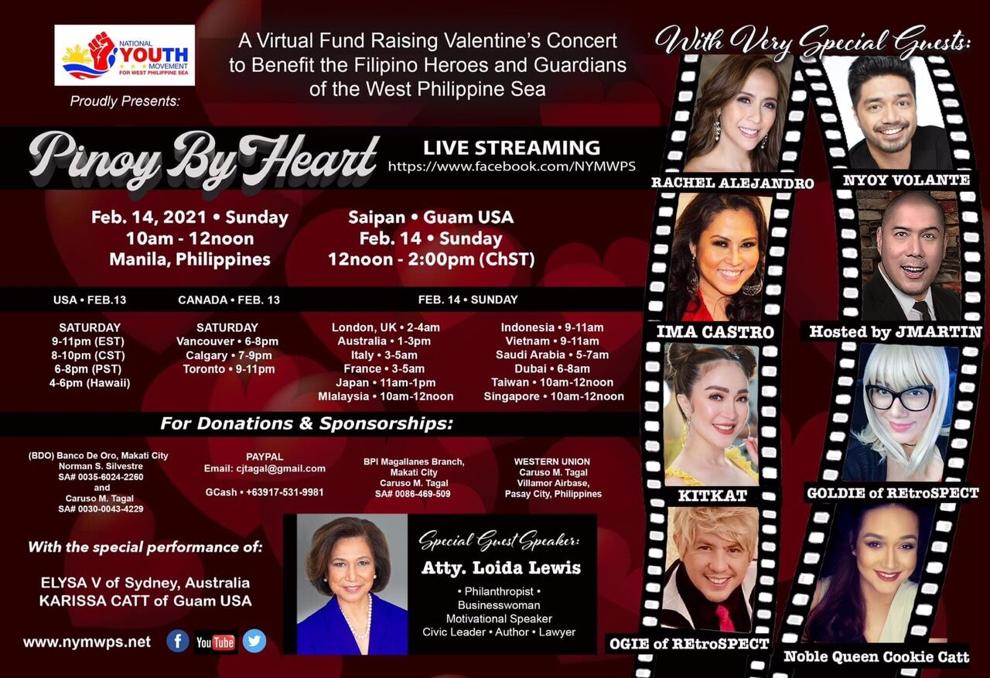 The National Youth Movement for the West Philippine Sea or NYMWPS is a transglobal peaceful organization that advocates for the preservation of Philippines' sovereignty and territorial integrity with the following goals: To create public awareness and conduct educational activities on West Philippine Sea issues; to instill patriotism among the youth and all Filipinos as well as to rekindle their spirit of nationalism; and to protect the rights and welfare of the guardians and protectors of the West Philippine Sea such as the Scarborough Shoal Fishermen in Masinloc, Zambales and neighboring towns as well as in Bataan and Pangasinan; the brave military troops at BRP Sierra Madre in Ayungin Shoal, and the brave men, women and children in Pag-asa Island, Kalayaan, Palawan and military troops in the rest of the Kalayaan Group of Islands.
In December 2020, the NYMWPS conducted Christmas gift giving projects for the Scarborough Shoal fishermen in Masinloc, Zambales, the military troops in BRP Sierra Madre at Ayungin Shoal, and the school children and residents of Pag-asa Island in Kalayaan Islands Group in Palawan.
"The year 2020 has been very difficult for many of us Filipinos. Natural calamities have wreaked havoc in many parts of the country, and  Covid-19 happened, with its end far from sight. Holidays were still celebrated, albeit differently from what we are all accustomed to. To somehow lift the spirits of our fellowmen in different parts of the West Philippine Sea, we held gift-giving events in coordination with their various local government units. These gifts included canned goods, rice, noodles, hygiene packs, toys, school supplies, snacks, and musical instruments for children, and medicines. Making this whole event happen was actually very hard, and full of stumbling blocks, but after seeing the smiles of the people, as well as their genuine appreciation of our gesture, made everything really worth it. The pandemic and natural disasters will never extinguish the flames of our support and solidarity with our true heroes and guardians of our territory. 'Mabuhay po kayo!' " says Dr. Christian Joseph Tagal, the chairperson of the NYMWPS Medical Mission and Outreach Programs.
Lamkin added, " Since there are still basic needs to be provided to the Filipino heroes, guardians and protectors of our West Philippine Sea in Pag-asa Island which were not being provided during the last gift-giving programs in December 2020, I organized benefit concert this Valentine's Day which will lead to the realization of our goals for our kababayans in Kalayaan Islands."
The Virtual Benefit Concert "Pinoy By Heart" to benefit the Filipino heroes, protectors and guardians of our West Philippine Sea will be livestreamed on the NYMWPS FB page at https://www.facebook.com/NYMWPS on Sunday, February 14, 2021, 10 a.m. to 12 noon Manila time or Sunday, Feb. 14, 2021 12 noon to 2 p.m. ChST, Saipan and Guam.
The guest performers are:
Rachel Alejandro
Ima Castro
Kitkat
Nyoy Volante
JMartin of REtroSPECT
Goldie of REtroSPECT
Ogie of REtroSPECT
Cookie Catt (Noble Queen Universe 1st Runner-Up from Guam)
Also performing:
Elysa V of Sydney, Australia
Karissa Catt of Guam
Hosts:
JMartin of @The Hafa Adai Show with JMartin
and
Dr.  Celia Lamkin, founder and global chairperson of the National Youth Movement for the West Philippine Sea.
Special guest speaker:
Attorney Loida Nicolas Lewis, philanthropist, businesswoman, civic leader, motivational speaker, lawyer and author.