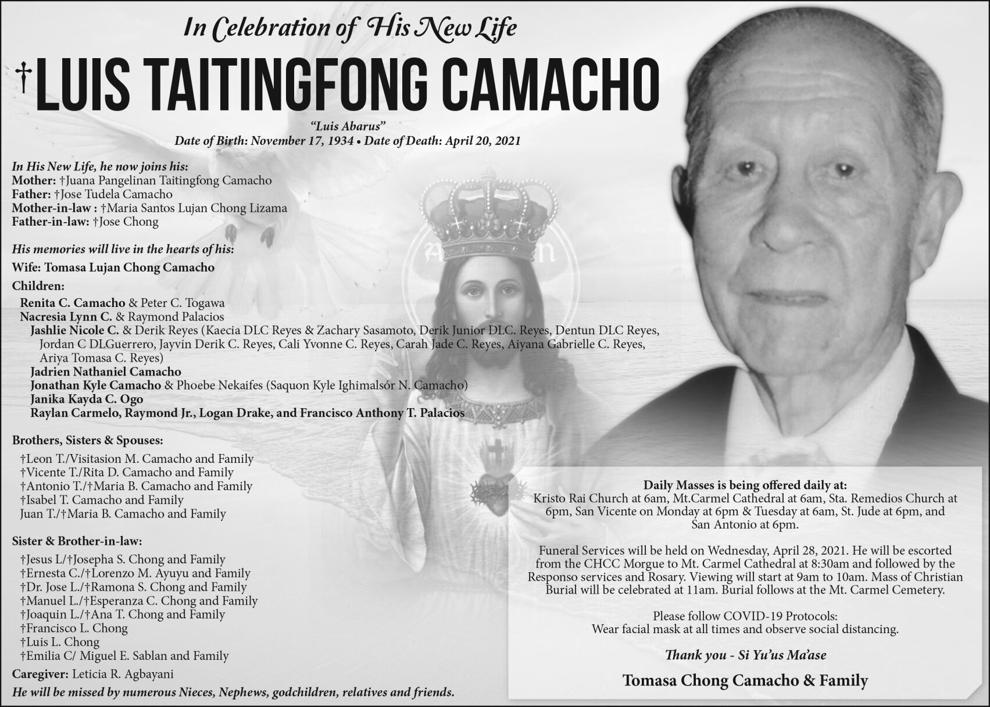 Luis Taitingfong Camacho
"Luis Abarus"
Date of Birth: November 17, 1934
Date of Death: April 20, 2021
In His New Life, he now joins his:
Mother: +Juana Pangelinan Taitingfong Camacho
Father: +Jose Tudela Camacho
Mother-in-law : +Maria Santos Lujan Chong Lizama
Father-in-law: +Jose Chong
His memories will live in the hearts of his: 
Wife: Tomasa Lujan Chong Camacho 
Children:
Renita C. Camacho & Peter C. Togawa
Necresia Lynn C. & Raymond Palacios
Jashlie Nicole C. & Derik Reyes (Kaecia DLC Reyes & Zachary Sasamoto, Derik Junior DLC. Reyes, Dentun DLC Reyes, Jordan C DLGuerrero, Jayvin Derik C. Reyes, Cali Yvonne C. Reyes, Carah Jade C. Reyes, Aiyana Gabrielle C. Reyes, Ariya Tomasa C. Reyes)
Jadrien Nathaniel Camacho
Jonathan Kyle Camacho & Phoebe Nekaifes (Saquon Kyle Ighimalsor N. Camacho)
Janika Kayda C. Ogo
Raylan Carmelo T. Palacios
Raymond T. Palacios Jr. 
Logan Drake T. Palacios
Francisco Anthony T. Palacios
Brothers, Sisters & Spouses:
+Leon T./Visitasion M. Camacho and Family 
+Vicente T./Rita D. Camacho and Family
+Antonio T./+Maria B. Camacho and Family 
+Isabel T. Camacho and Family 
Juan T./+Maria B. Camacho and Family
Sister & Brother-in-law:
+Jesus L/+Josepha S. Chong and Family
+Ernesta C./+Lorenzo M. Ayuyu and Family 
+Dr. Jose L./+Ramona S. Chong and Family 
+Manuel L./+Esperanza C. Chong and Family 
+Joaquin L./+Ana T. Chong and Family 
+Francisco L. Chong 
+Luis L. Chong 
+Emilia C/ Miquel E. Sablan and Family 
Caregiver: Leticia R. Agbayani 
He will be missed by numerous Nieces, Nephes, godchildren, relatives and friends. 
Daily Masses is being offered daily at:
Kristo Rai Church at 6am, Mt.Carmel Cathedral at 6am, Sta. Remedios Church at 6pm, San Vincente on Monday at 6pm & Tuesday at 6am, St. Jude at 6pm, and San Antonio at 6pm. 
Funeral Services will be held on Wednesday, April 28, 2021. He will be escorted from the CHCC Morgue to Mt. Carmel Cathedral at 8:30am and followed by the Responso services and Rosary. Viewing will start at 9am to 10am. Mass of Christian Burial will be celebrated at 11am. Burial follows at the Mr. Carmel Cemetery. 
Please follow COVID-19 Protocols:
Wear facial mask at all times and observe social distancing. 
Thank you - Si Yu'us Ma'ase
Tomosa Chong Camacho & Family