STANLEY Iakopo and his 15-year-old daughter Filomenaleonisa will be the first father and daughter to compete in the Dee Clayton Classic Bodybuilding and Fitness Championship set for Saturday (not next year as earlier reported) at Saipan World Resort.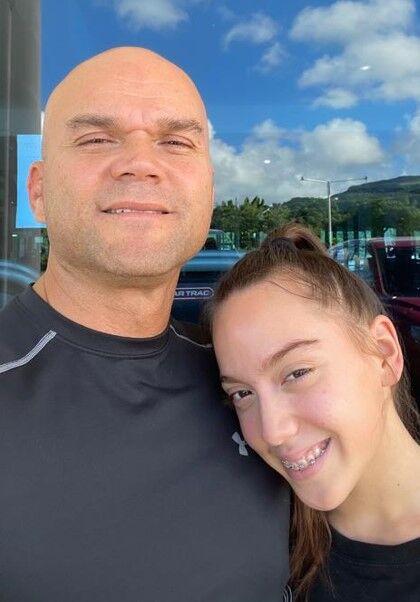 The executive director of the CNMI Veterans Affairs Office, Iakopo, 48, will join the men's open event while Filomenaleonisa, a 10th grader at Kagman High School, will compete in the women's open figure division.
"It's a dream come true for me," Iakopo said. "I've always said to my wife that one day, I want our kids to do all the sports with me ever since they were little. I am more proud of my daughter because not every 15-year-old can do this. It takes a lot of heart, self-discipline, and sacrifice to do what Filomenaleonisa does," he added.
Originally, Iakopo said his daughter was supposed to join the teen category "but she wanted to challenge herself and knowing her competitive nature, she wanted to go up against seasoned competitors."
Filomenaleonisa, he added, is fearless and will stop at nothing when she sets her mind on a goal.
Iakopo said bodybuilding is about health and fitness. "It teaches you how to eat healthy and exercise properly. It's always best to do it as a family and make it fun," he added.
He said he and his daughter have been preparing for the event since late September.
Iakopo said his daily diet is mostly fish,  chicken breast, white-meat tuna and vegetables — no junk or greasy food.
He said he and his daughter  lift weights early in the morning every day and undergo Brazilian Jiu-Jitsu training at Trench Tech before doing cardio in the evenings.
Asked about his chances of winning, Iakopo said, "I am always confident in every sport I do as I stay focused, give it my 100%, and I always believe in myself. Whatever the outcome may be, going through this journey with my daughter is very rewarding."
Amid a still raging Covid-19 pandemic, Iakopo said, "we have an adapt-and-overcome mindset — the pandemic didn't really affect our preparation."
Filomenaleonisa, for her part, said she is blessed because she has the best trainer, her dad, who guides her through this journey.
"This process is definitely not an easy one, but having my dad by my side makes everything less difficult. I am very proud that we will be the first ever father-daughter competing in the DC Classic," she said.
She said she and her father  started training near the end of September because the event was originally set for Oct. 30.
"Although I've always been active in many sports such as Brazilian Jiu-Jitsu, motocross, and track & field, I learned how to balance all the things I am passionate about. It takes a lot of dedication, commitment, and determination while dieting, using most of my time at the gym, school, and spending time with family," she added,
Filomenaleoisa said she is "genuinely very excited but nervous."
"This will be my first competition and I will be competing against previous champions. I have faith in my training and all the hard work I have put in. Whatever the outcome may be I am proud of accomplishing one of the many goals I have," she said.
Her message to those interested in bodybuilding: "It's  a great opportunity to get out of your comfort zone. Bodybuilding does not only make you physically strong but mentally too. It teaches you discipline and boost your self-esteem. It is truly an investment in yourself."