"I was overwhelmed with all the good things that these guys [of TTT] are doing," McDonald's Saipan-Guam owner Joe Ayuyu Sr. said following a presentation hosted by Tasi To Table on Thursday at Aqua Resort Club.
 "I'm really into the lives of young kids and I want to keep them busy in the community and stay out of trouble," he added.
He noted that McDonald's has been sponsoring sports events such as Little League Baseball, track & field and athletics.
"After your presentation tonight,  I might just want to include this group on my…list," he told TTT president Gene Weaver and vice president Wayne Pangelinan.
"I'm really excited with the things you do," Ayuyu added. "It is so difficult to get the kids [involved], and as you start building the program, a lot of times, they drop out or lose interest. So I commend your group for not only keeping the kids interested, but for also…reaching out to them. I'm very impressed…."
Among TTT's activities are fishing tournaments, seminars, beach cleanups and field trips.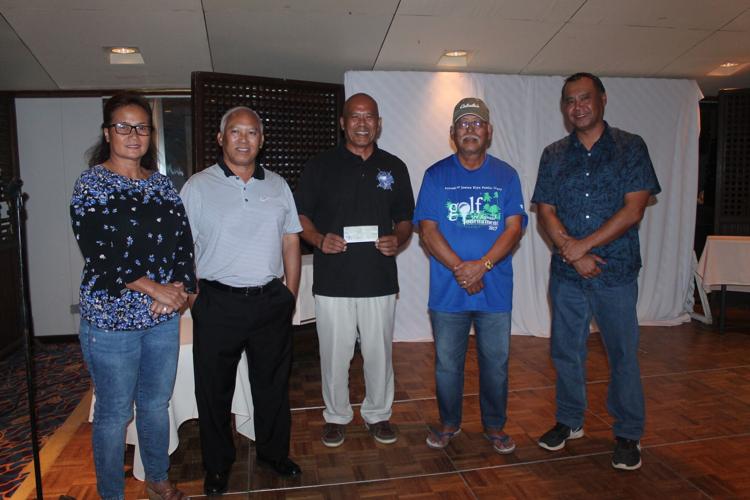 McDonald's Marcia and Joe Ayuyu pose with Tasi To Table president Gene Weaver and vice president Wayne Pangelinan after donating a check for $2,000 to TTT. Photo by James F. Sablan Jr.
Mobil Oil Marianas sales representative Malaina Kileleman, who also attended the presentation, said Mobil supports education and the youth, "and this is what TTT is doing."
She added, "TTT is educating the youth about fisheries, sustainability, and the opportunities that are available for possible careers in this sector."
For his part, TTT vice president Wayne Pangelinan said Tasi To Table is "deeply grateful to Mr. Joe Ayuyu Sr. and [his wife] Mrs. Marcia Ayuyu. Despite the current economic downturn, they believe in our efforts and see the value in what we do. We are hopeful that they will continue to support our youth program in the years to come."