The SCS onslaught was spearheaded by Jose Sablan who crossed the finish line with a time of 00:08:40 to give his school the upper hand.
Schoolmate Allie Brussel completed the course at 00:09:17 while Micaela Tenorio followed behind at 00:11:07.
For their parts, SCS runners Daniel Guo, Dennis Guo and Paul James Mendoza finished seventh, eighth and ninth to give their school the top spot in heat No. 1 in the elementary division.
William S. Reyes Elementary School, the only other qualifying school in the team competition, was second place overall with Jiro Quindoza, Marq Hernandez and Kristen Sierr in fourth, fifth and sixth places while Mateo Almada finished in 10th place.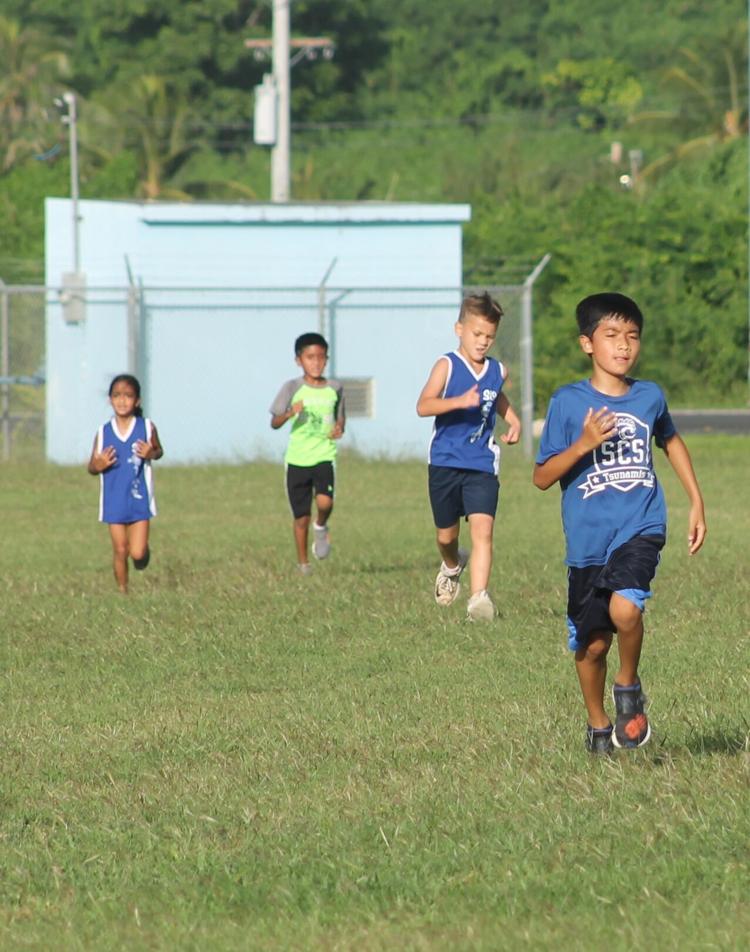 A Saipan Community School student takes the lead in the elementary division of the 2020-2021 PSS/NMA All School Cross Country at the CPA Airport Field. Photo by James F. Sablan Jr.
Although Brilliant Star School did not qualify in the team event, one of its runners, Moshe Sikkel, topped the individual category as she was the first to cross the finish line, clocking in at 00:07:25.
Schoolmate Akeem Edvalson followed nearly a minute later in second place at 00:08:22.
Evan Poole, Aiden Camacho, Damien Camacho and LoVel Spaeth also showed team spirit as they made their way to the finish line.
Saipan International School also did not qualify in the team competition but one of its students, Eliza Culp, finished third overall with a time of 00:08:29. The other SIS runners who participated in the race were Beatrice Gross, Jake Duenas, Lucy Woo and Yummy Peng.
Heat No. 2
Heat No. 2 of the elementary division was dominated by Agape Christian School, thanks to its runners' consistency and steady pace.
Agape's Jessie Campbell clocked in at 00:08:17 to finish first. Schoolmates Joey Xia (00:09:38) and Benjamin Cai (00:09:39) added  more points in second and third places.
It did not take long for the rest of the Agape team to complete the race with Daniel Huang in sixth place, Ratul Bhuya in 13th and Alice Duan in 15th to secure the top spot for their school in the team standings.
Isla Montessori Saipan put up a fight and finished second overall thanks to Oliver Pauling and Georgia Baetge who finished fourth and fifth.
Kate Manglona, Jackson Koning and Phillip James Seman continued to add more points for Isla as they finished in 10th, 11th and 12th places while schoolmate Cooper Fong joined later in 14th place.
Kagman Elementary School was third in the team standings with KagES' Benaiah Murphy, Americus Murphy and Jacob Santos crossing the finish line in seventh, eighth and ninth places while Harley Murphy, Kamwatie Welch and Teeta Welch finished 16th, 17th and 19th.
Mount Carmel School did not qualify in the team competition, but its student  Gabriel Lawrence Hernandez participated in the race and placed 18th.