Koruda quickly made his way in the first leg of the race, completing the 5km run and transitioning to the 20 km bike which took participants to the southern end of the island and back to Banzai Cliff where he went back on foot to cover the remaining 2.5km to complete the course.
Shuji Koruda approaches the finish line of the TRAC 5th Duathlon at Banzai Cliff on Saturday. Contributed photo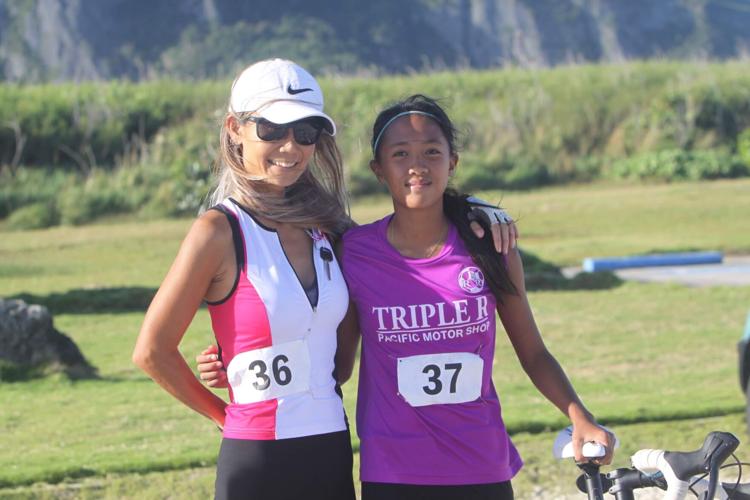 Andrei Kaithlyn Sanchez, right, poses with Ayano Braxton during the TRAC 5th Duathlon at Banzai Cliff on Saturday. Contributed photo
Koruda stood tall, leading the entire race with a finish time of 01:05'09 while former champion Charlie Sendin came in second at 01:11'28. Veteran triathlete Tyce Mister placed third, just a minute behind, clocking at 01:12'17.
Women's division
In the women's division, Andrei Kaithlyn Chavez  pushed through the finish line in first place with a time of 01:16'31. She bested another veteran triathlete, Ayano Braxton, who clocked in at 01:16'59 followed by Kimiko McKagan who was third  with a time of 01:20'20.
Forty-eight individuals participated in this year's event which was sponsored by Tan Holdings Corp., Marpac Saipan and DFS Saipan Ltd.
For helping ensure the success of the event, TRAC would like to thank the Department of Public Safety, especially LTC/CDR Anthony Macaranas, Grace Christian Academy Senior Class, Shelfa Gaviola, Butch Sublemente, Rosalio Quintos, Rey Tentia and other volunteers.