SAIPAN International School and Agape Christian School shared the spotlight in the 2020-2021 Public School System/Northern Marianas Athletics All School Cross Country championship on Saturday at the CPA Airport Field.
SIS topped the boys division while ACS dominated the girls'.
The boys division race was intense as SIS and ACS aimed for the top spot.
SIS was the first team to  earn points with Rex Pixley coming in at 00:20'20 to place second overall.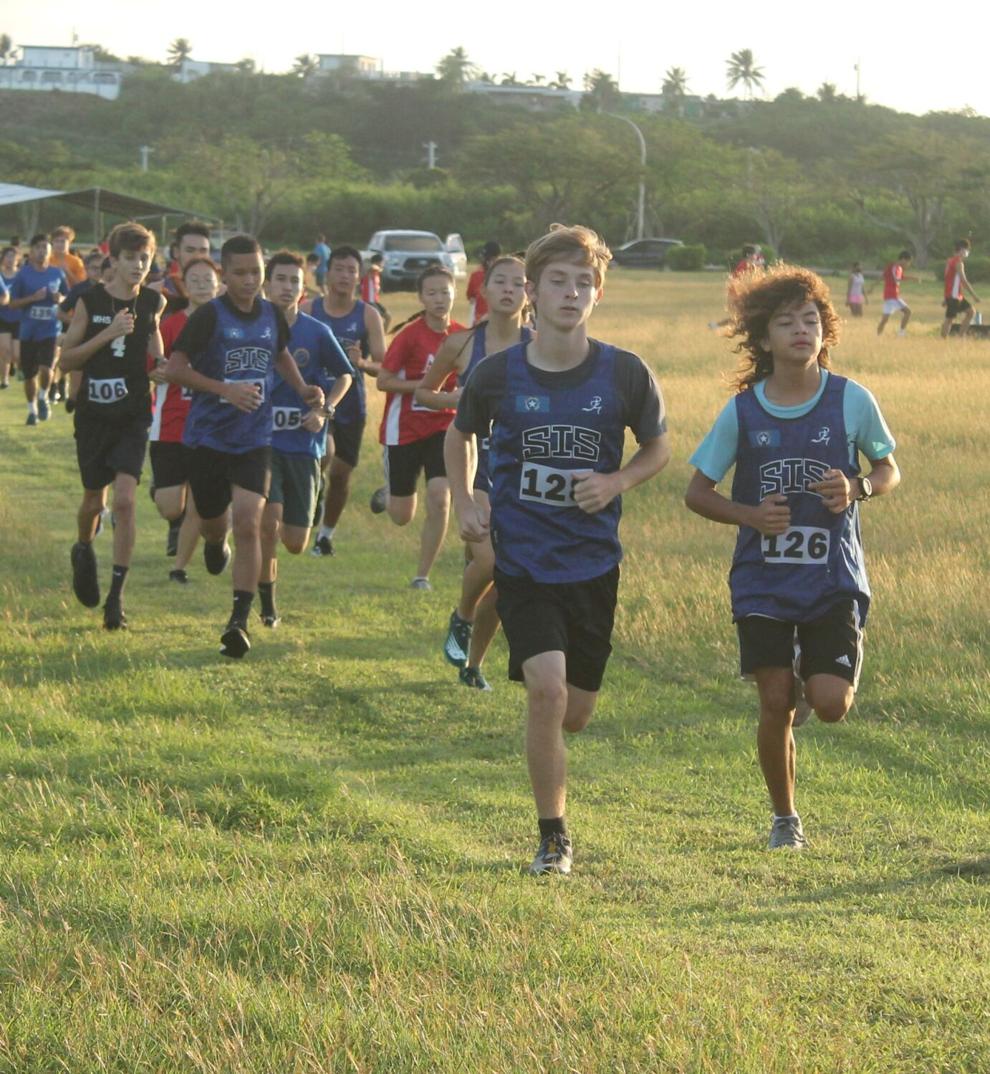 ACS's Ray Qi was third  at 00:20'35 to balance the score but SIS's Samuel Culp finished fourth with a time of 00:20'51.
ACS's Eason Tang (00:21'17) and Jason Cao (00:21'31) were fifth and sixth while SIS's Charles McDonald (00:21'47) was seventh, ACS's Samuel He (00:21'50) was eighth, and SIS's Andrew Sablan (00:23'06) was ninth.
At this point, both teams had accumulated the same number of points, 22. But it was Jimin Wu of SIS who broke the tie and gave his school the thrill of victory when he crossed the finish line in 12th place with a time of 00:23'31 while ACS's Peter Hu  finished 15th at 00:24'05. Jesus Sablan of SIS was 14th place with a time of 00:23'37.
Marianas High School gave a good fight as well but settled for third place. MHS's Josh Oson was the first runner to officially complete the course with an impressive time of 00:19'44. Fellow Dolphin Sildrey Veloria was 10th  with a time of 00:23'13; Anthony Bergancia was 11th (00:23'25); Dylan Mister was 13th (00:23'32), Blake Mister,  16th  (00:26'21); and Daniell Pablo, 17th (00:26'31).
 Mount Carmel School finished fourth in the team competition. Robin Alvarez came in 18th place with a time of 00:29'56, Mark Jainier Chavez was 19th with 00:37'33, and Vince Salvador was 20th with 00:37'35.
Girls category
The girls of Agape Christian School were dominant. Emma Pang (00:22'53) finished second, Grace Shi (00:23'21) was third, Eunice Xu (00:23'35) was fourth, Elizabeth Xu (00:24'29) was fifth, Sally Wu (00:25'00) was sixth while Vivian Wu (00:27'36) finished eighth.
Saipan International School earned second place in the team event with Tiana Cabrera topping the race at 00:22'09.
Fellow SIS students Linxi Cai was ninth with 00:28'25, Jinnie Thompson was 11th with 00:29'43, and Pyper Liske-Clark was 13th with 00:29'59.
Marianas High School was third overall thanks to Allysa Angeles who finished seventh at 00:25'50; Jerlyn Castro, 12th with a time of 00:29'56; Kina Rangamar, 15th at 00:30'41; and Sedrei Camacho, 17th at 00:38'10.
Mount Carmel School was fourth with Aleia Santos in 10th place with a time of 00:29'32; Fiona Bucalig, 14th at 00:30'04; Penelope Sablan, 16th at 00:34'10; Erin Frink, 18th at 00:38'11; and Amaya Reyes, 19th at 00:38'15.
Individual medals were awarded to Josh Oson who took the gold; Rex Pixley, silver; and Ray Qi, bronze. In the girls category, Tiana Cabrera received the gold; Emma Pang,  silver; and Grace Shi, bronze.