At Aqua Resort Club on Thursday, Tasi to Table presented its plans for 2021 to sponsors and other contributors to the TTT cause.
Led by SFA president Gene Weaver and vice president Wayne Pangelinan, TTT started  a six-week pilot program with Da'ok Academy in June-July 2019 that was focused on traditional fishing techniques.
In Oct. 2019, an eight-month pilot program with four public high schools was launched as a Public School System elective credit toward graduation.
The goal was to build capacity for sustainable fishing practices, environmental protection and preservation while teaching safe boating practices, safety precautions and reel maintenance. In addition, the program included actual fishing expeditions.
TTT members also learned about self-development —  self-imaging, mental health, suicide awareness, teen pregnancy issues and mentorship.
TTT is now ready to implement another eight-month program in the upcoming year, SFA vice president Wayne Pangelinan said on Thursday.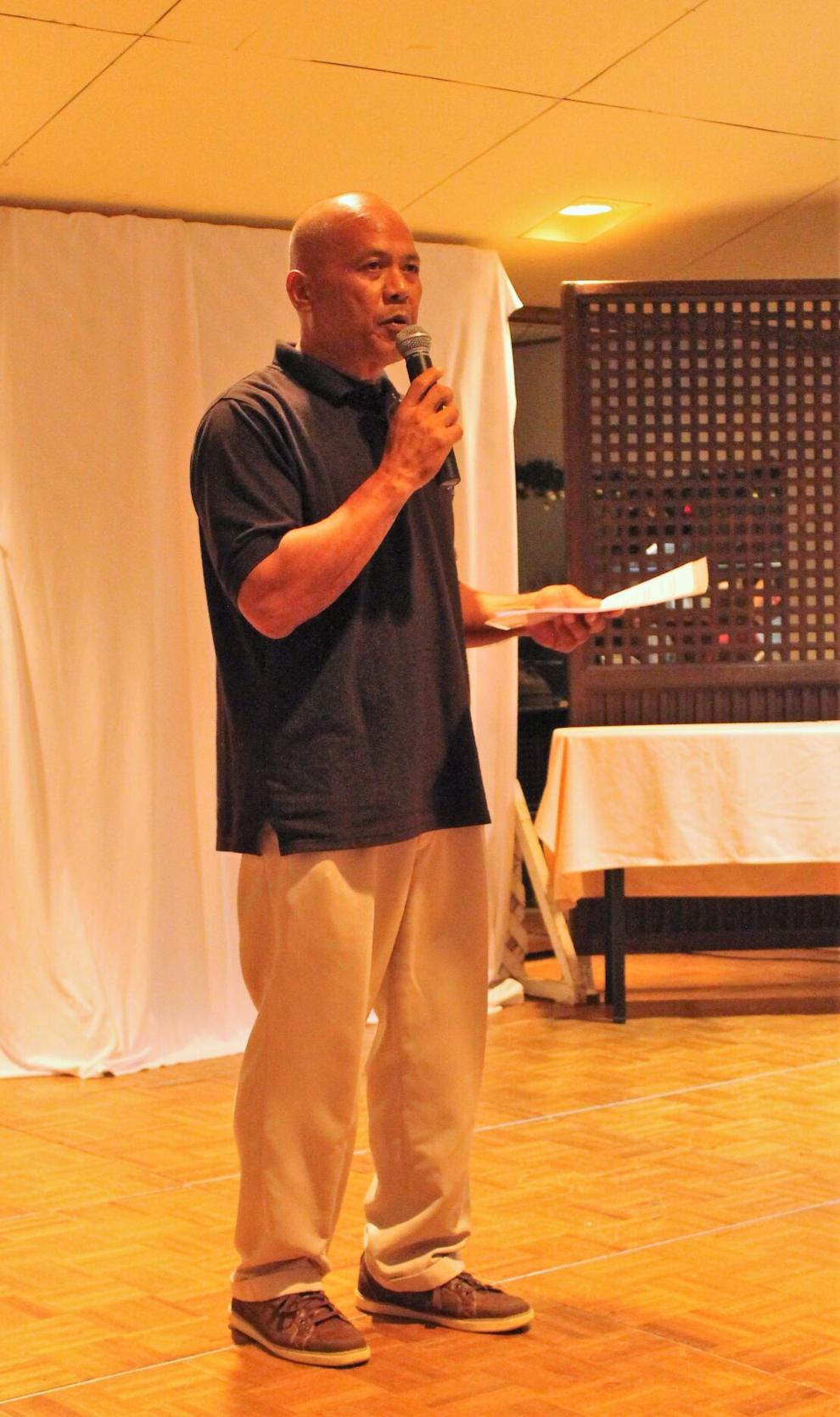 Tasi To Table president Gene Weaver says a few words during  a presentation at the Aqua Resort Club on Thursday. Photo by James F. Sablan Jr.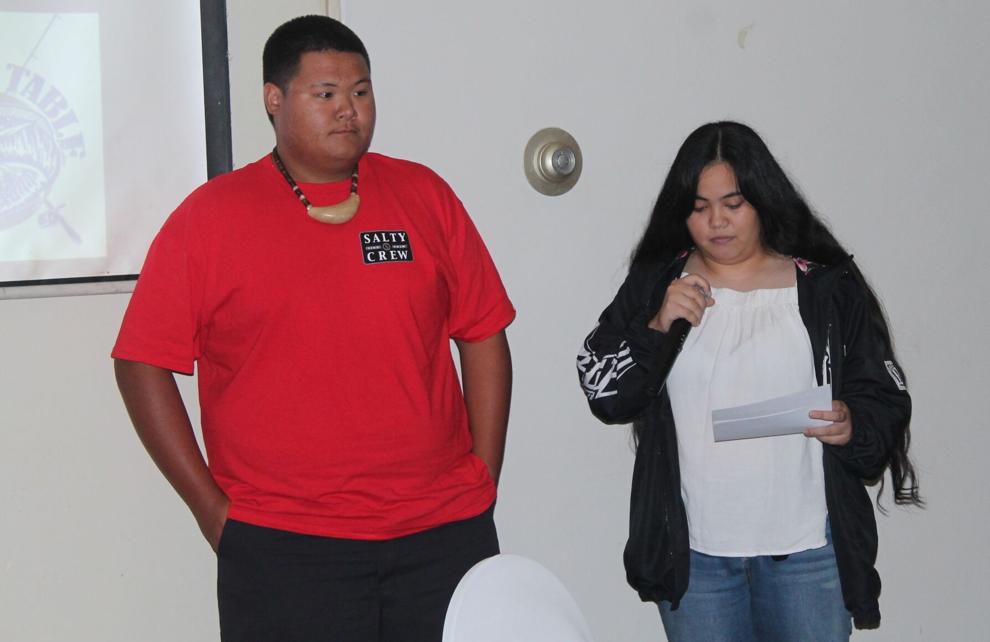 Tasi To Table members Derik Reyes Jr. an MHS senior, left, and Kaiannylupe Sablan, a KHS senior, share their experiences with the program during a presentation at the Aqua Resort Club on Thursday. Photo by James F. Sablan Jr.
Two of the program's sponsors, Mobil Oil Marianas and IT&E, have already given the go-ahead for the 2nd Annual Wahoo in the Marianas Tournament slated for March 2021.
TTT is likewise preparing  community events for families. These will include the second shoreline casting tournament in April 2021 sponsored by Fishing Tackle & Sporting Goods, and the first Tuna Mix Classic sponsored by the Bank of Saipan and Pacific Trading Company and set for Aug. 2021.
Pangelinan said with PSS, they are also applying for Saltonstall-Kennedy Grant Program funds.
In addition, TTT plans to open clubs on Tinian and Rota starting in Feb. 2021 with possible support from the CNMI government.
"TTT continues to grow and we are very excited about that," Pangelinan said.
During a presentation at Aqua Resort Club on Thursday, Marianas High School senior Derik Reyes Jr and Kagman High School senior Kaiannylupe Sablan shared their experiences as TTT members.
"When I first joined TTT, I had no experience [in fishing] whatsoever," Sablan said. "But I've gained a lot of knowledge from guest speakers, TTT and SFA members themselves. I've learned a lot from boating safety officers like their emergency protocols and channels. TTT also provides hands-on experience like coordinating events such as the first Wahoo in the Marianas Tournament."
During the wahoo tournament, MHS handled logistics, KHS was in charge of solicitation letters, Saipan Southern High School oversaw the rules and regulations while Da'ok Academy took care of public relations and advertising
Using PowerPoint slides, Reyes, for his part, discussed his hands-on fishing experiences  and  the important role sustainable fishing plays in protecting the environment.