Local athlete James Lee has shown his love for the annual run  as a participant for many years now.
"This year's turkey trot is my 16th run since I started," he said. "I missed a couple but every year I look forward to it. It has become more than just a run —  it has become an annual tradition for me and for some of my close friends whom I managed to drag along throughout the years. For me, it's a perfect day to reflect and be thankful for." 
This year, Lee influenced his son, Dylan, to do the run. "I told him a day before the run to not think of it as a workout or a run uphill. I then explained to him why I do it every year even when I didn't train for it. I pretty much broke it down for him on how I felt and probably how he would feel." 
Lee added, "You feel lazy to get up at 4 a.m., but then you'll feel good at the start of the run. Then you'll feel like quitting both mentally and physically. But if you push yourself and set your mind into finishing it, at the end the reward is being able to feel proud and grateful for the accomplishment."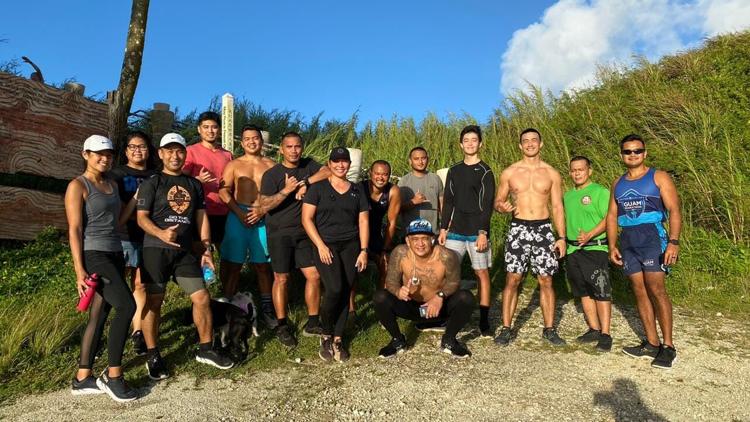 James Lee and Joe Villacrusis pose with the other participants of the 2020 Mt. Tapochao Turkey Trot Virtual Run held over the weekend. Contributed photo
Lee said the "reflection part, as I told my son, is that in life that's how it's going to be. There are going to be moments when you will be in a situation where you feel like quitting because you're hurting  physically and/or mentally. It's up to you. You can either quit and never know what is at the finish line or what you are capable of — or you could push yourself with a positive attitude and simply be grateful that you are alive."
Another participant, Joe Villacrusis, said the annual run is good for those who want to remain fit.
In 2006, he said, when he decided to join the Army, "I was overweight — I weighed 225lbs. I knew that if I didn't get fit enough by the time I go to boot camp then I would fail. So I started working out, changing my diet, and cutting down on alcohol and tobacco. Many veterans advised me that running is a very important part of physical fitness and that my focus should be on running, especially doing at least a 15-minute two-mile run."
It was his friend, James Lee, who encouraged Villacrusis to join the turkey trot run.
"At the time I had no idea what it was, but I put my full faith in him and joined him," Villacrusis said. "My first experience…was something I never felt before. I felt a sense of accomplishment after reaching the top. I never thought I could make it to the top, let alone making it a little less than 50 minutes. Since then I have not missed the annual turkey trot.  I always enjoyed the challenge despite my running time slowly increasing over the years with an average of over 1 hour. It is a great way to 'earn' my Thanksgiving dinner."