AGAPE Christian School dominated both divisions of the 39th Annual Christmas Island Relay on Saturday.
In the open mixed team division, Team Agape A clinched its sixth consecutive victory in the annual competition.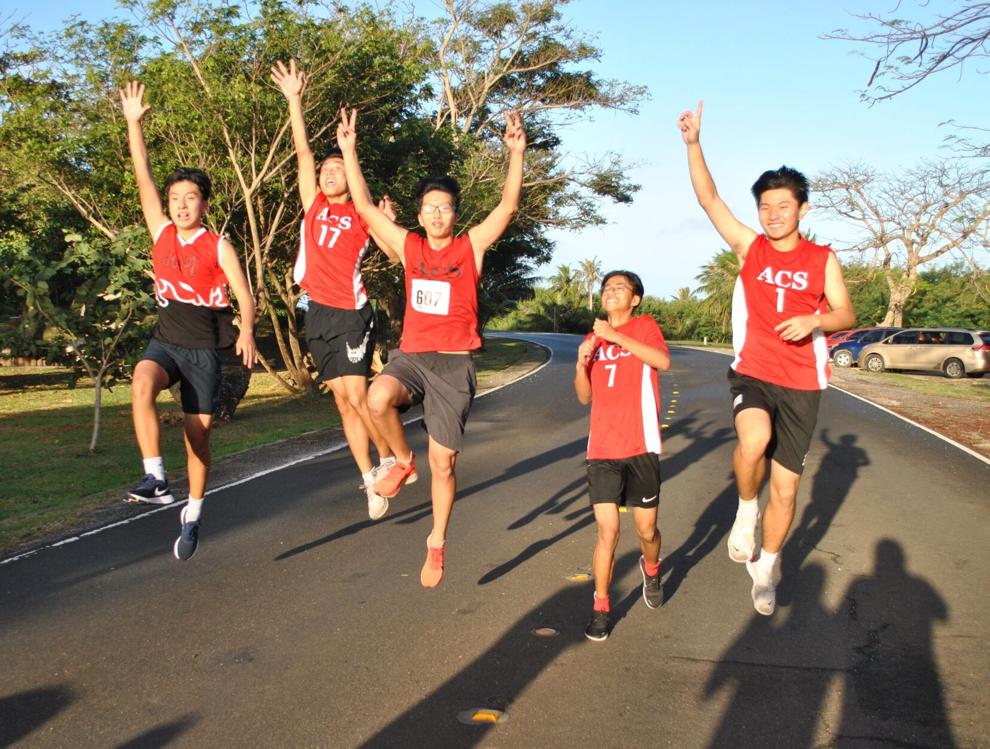 Le by team leader Pastor Pang, Agape A's Simon Shan, Ray Qi, Eason Tang, Peter Hu and Samuel He powered past the five one-mile stages with ease, alternating individually from the Pacific Islands Club in San Antonio to the Last Command Post in Marpi.
In the final leg of the race, the team members joined hands and celebrated as they crossed the finish line with a time of 01:25'38, one minute shy of breaking their old record set two years ago:  01:24'22.
Pastor Pang was happy with the results of his team stating, "It's very good. We have tried our best, but we will try again next year."
Coming in second were Crackers & Jack, consisting of Jack Ketson, Keith Longuski, Travis Spaeth, Tom and Miles Linden who timed in at 01:31'21 while Agape B's Antonio Li, Timothy Yu, Jim Qiu and Alice Yang finished third at 01:32'54.
In the youth mixed division team, Agape C bagged the top spot. Jason Cao, Allen Luo, Abraham Zhu, Caleb Dai and Eunice Xu zoomed past the finish line with a time of 01:30'50 followed by David Zhao, Eric Chen, Alex Liang and Emma Pang of Agape D, clocking  in at 01:33'34.
In third were Kaithlyn Chavez, Kohtaro Sangel Goto, Markus Toves, Jerald Aquino, and Akira Kadokura of Santa Youth with a time of 01:33'66.
The youth division had a staggered start due to social distancing protocols.
Race director Robin Sapong said it was "a very impressive performance by our youth teams despite a delay of four minutes and 55 seconds. All three teams managed to  finish in the top five. In addition, all three teams had  female runners."
Twenty-six teams participated. As part of its "greener road racing initiative," Northern Marianas Athletics  re-used  race bibs. There were no paper plastic cups at the finish-line, no paper entries, and no paper results were printed.