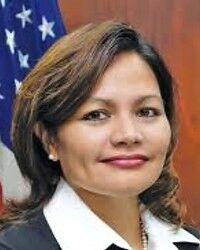 The judge said because one of the defendants is Harry Blalock, she is disqualifying herself from presiding over the case. She did not elaborate, but added that the case has been reassigned to District Court of Guam Chief Judge Frances M. Tydingco-Gatewood.
Madelyn Ann Jones sued the Professional Association of Dive Instructors, Axe Murderer Tours LLC, Harry Blalock, Green Flash LLC, and Joe McDoulett for negligence, wrongful death, and breach of consumer protection act. She is demanding a jury trial.
Represented by attorney William M. Fitzgerald, Mrs. Jones has asked the court for a monetary award for damages with interest.
She also asked for an award of attorney's fees and other costs and expenses, and other relief the court may deem just and proper.
Her husband, John Jones, an employee of US Federal Aviation Administration for 30 years was sent to Saipan to aid in the recovery efforts of the airport after Typhoon Yutu made landfall on Saipan in October 2018.
On Nov. 18, 2018, Mr. Jones had a day off and decided to go scuba diving with a fellow employee, Dana Couto.
Being unfamiliar with the waters around Saipan, the pair sought a professional scuba diving guide and was informed that Blalock was a professional dive instructor, certified by PADI, the largest scuba diving agency in the world, the lawsuit stated.
It added that Couto and Jones contacted Blalock and his dive tour company, Axe Murderer, on Saturday, Nov. 17, 2018, to see if Blalock could take them diving on Nov. 18, 2018.
Blalock agreed and recommended that they dive the Grotto the next day, the lawsuit stated. Blalock met Jones and Couto on the morning of Nov. 18, 2018 at their hotel and drove them to the Green Flash shop to pick up oxygen tanks for the dive. At that point, the lawsuit stated,McDoulett joined the group. McDoulett worked at Green Flash and was a dive instructor there.
Mr. Jones went missing during the dive.
The U.S. Coast Guard, the U.S. Navy, the U.S. Air Force, and the CNMI Department of Public Safety searched for him until Nov. 24, 2018, but he was never found.
A presumptive death certificate was issued on March 22, 2019 with a date of death of Nov. 18, 2018.
The 65-year-old Jones left behind a wife of 46 years, two children, five grandchildren, and his mother.